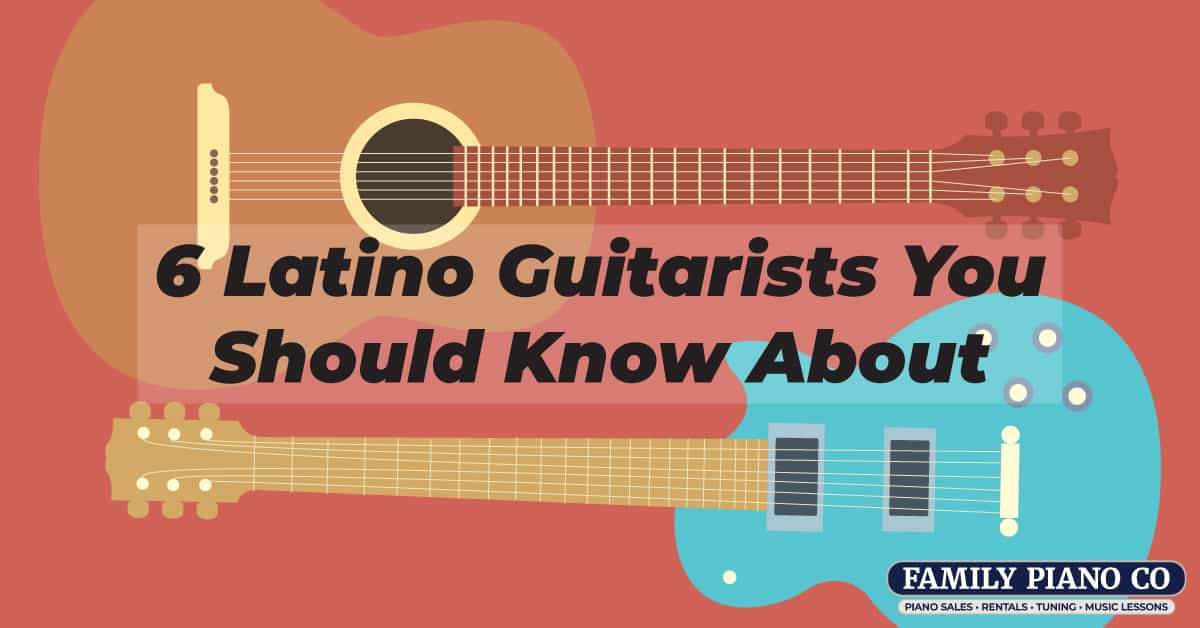 This year for Hispanic Heritage Month, September 15 – October 15, we're going to be releasing some blog posts and playlists that explore the music of Latin culture.

The guitar is a keystone instrument in Latin American music. It's used in all sorts of genres, from flamenco to mariachi to good ol' rock and roll. It comes as no surprise that some guitarists of world-renowned talent are also of Latin American descent.
Most notably, Latin American musicians use a blend of classical techniques mixed with sounds of their native countries to come up with a sound experience greater than the sum of their parts. Even so, musicians of Central and South America are generally overlooked in our music education system. Here are a handful of guitarists whose legacies in music are worth learning about, in alphabetical order. Among those in this list are musicians whose repertoire has been foundational for both classical music study and guitar players alike.
Like all cultural studies, this list barely scratches the surface of Latin American guitarists and their impacts on music. Let this list be a starting point on your quest to finding your new favorite musician!
As always, the videos in this post have been compiled into a handy playlist on YouTube!
Agustín Barrios (1885
–

1944)
Agustín Barrios was a Paraguayan virtuoso classical guitarist and composer. He is known as one of the greatest performers and most prolific composers for the guitar.
A true pioneer, Barrios is also considered to be the first guitarist to have recorded a record. The first recordings date back to 1913 and were made in Montevideo for the Atlanta / Artigas record company.
Guitarist John Williams, former student of Andres Segovia, said of Barrios: "As a guitarist/composer, Barrios is the best of the lot, regardless of era. His music is better formed, it's more poetic, it's more everything! And it's more of all those things in a timeless way."
Abel Carlevaro (1916
–

2001)
Abel Carlevaro was a classical guitar composer and teacher born in Montevideo, Uruguay. His contributions to guitar-playing were mainly focused on the technical.
He established an entirely new school of guitar technique, based on anatomical principles, and a new shape of guitar to go with it. He thought the guitar should be molded to best fit the human body instead of the other way around.
Thanks to the power of the Internet, you can even take a guitar lesson with him right on YouTube.
Antonio Lauro (1917
–

1986)
Antonio Lauro was a Venezuelan musician, considered to be one of the foremost South American composers for the guitar in the 20th century. Like a lot of musicians of his generation, Lauro was a steadfast cultural nationalist. His work was largely based around celebrating the musical heritage of Venezuela.
Guitarist John Williams is quoted as having referred to Antonio Lauro as being the "Strauss of the guitar". Many of Lauro's works have been the core of musical universities worldwide.
While his works were popular in his time as well as today, any recordings of him were few and far between. Linked below is a fragment of one of his works by an aficionado that wanted to share his music in the public domain.
Helena Meirelles (1924
–2005

)
Helena Meirelles was a Brazilian guitar player and composer from Mato Grosso do Sul in Brazil. She was one of the most important composers of the folk musical style of this region.
Her music is recognized by the native people of Mato Grosso do Sul as an expression of the roots and culture of the region.
She came into greater recognition in 1994 when Guitar Player magazine named her as one of the top 100 guitar players in the world. Her playing is absolutely captivating.
Arsenio Rodríguez (1911
–

1970)
Arsenio Rodríguez was a Cuban musician, composer and bandleader. He played the tres, as well as the tumbadora, and he specialized in son, rumba and other Afro-Cuban music styles.
In the 1940s and 1950s Rodríguez established the conjunto format and contributed to the development of the son montuno, the basic template of modern-day salsa.
He claimed to be the true creator of the mambo and was an important as well as a prolific composer who wrote nearly two hundred songs. His music and his style of playing was closely tied to a strong sense of Afro-Cuban culture.
Carlos Santana is a Mexican and American guitarist. He rose to fame in the late 1960s and early 1970s with his band Santana, which pioneered a fusion of rock 'n' roll and Latin American jazz.
His work was heavily influenced by Chicano rock musician Richie Valens at a time when there weren't a lot of Mexicans in the American rock scene. It goes to show that representation really does matter!
Its sound featured his melodic, blues-based lines set against Latin and African rhythms played on percussion instruments not common to rock, such as timbales and congas. In 2015, Rolling Stone magazine listed him at No. 20 on their list of the 100 greatest guitarists.