Family Piano's Simplification Clearance Sale
We're SIMPLIFYING. a lot.
Since 2006, Family Piano has been Waukegan's favorite piano store.
We're now making our main retail location the Golf Mill Mall in Niles, IL.
And we're gonna focus on being a simple piano store. 🎹
We really don't want to move a bunch of pianos, guitars, ukuleles, sheet music, and accessories back and forth. So please buy from us beforehand. We and our backs will thank you. 💛
Take 3s to autofill and submit the little form above, and we'll send you some more information.
You can also call or email us directly — or just drop on by!
(847) 775-1988 // sales@familypiano.com
118 S Genesee St, Waukegan IL 60085
267 Golf Mill Center, Niles, IL 60714
Big Changes = Big Savings
We're making a couple of big changes here at Family Piano Co — including improving the Golf Mill Mall shopping experience and changing our Waukegan store's hours to be by appointment only. To make all this happen, we need to have a big clearance sale.
A Couple Quick Notes:
In-Store Prices are Best Prices – Due to vendor agreements, we cannot advertise lower prices online, but rest assured that our in-store prices will be worth your while. Depending on the product, we're looking at 10% to 50% off, starting now!
In-Stock Merchandise Only – We're only clearing out what we have, we're not ordering more stuff for anyone. All inventory is First Come, First Served, As-Is. Hurry in as soon as possible for the widest selection of discounted inventory!
Starting Now – Discounts go into effect now. Our goal is to sell everything off by around October 1st. 
If It's Not a Piano, It Must Go!
Historically, we've carried a variety of musical products for our customers: guitars, ukuleles, sheet music, kazoos and more. ALL of this non-piano related stuff makes up less than 2% of our revenue, yet takes up a disproportionate amount of our staff's time and energy. Meanwhile, more and more people have been choosing to buy pianos from us.
So we've decided to focus on the main part of our business by selling off everything that's not directly piano-related. Thus, our Simplification Clearance Sale!
Consumers have never had more choice and convenience with online options, and we're happy to support our other local music stores by referring this type of business to them.
 What's on Clearance?
Sheet Music – Due to recent pricing changes in the industry, it's incredibly difficult for us to compete with the prices, convenience, and selection of online retailers. So as much as it pains us, we will no longer be stocking sheet music or doing special orders for new sheet music. These will be some of our biggest discounts.
Guitars & Ukuleles – We carry Yamaha and Luna guitars, mostly high-quality items priced for beginners. We've got some great ukes from Kala, Luna, and Amahi. Again, best prices will be in-store.
Guitar Strings – We'll offer the best discounts on buying multiple packs of strings, especially on some of our imported strings. Plan to stock up!
ALICE Gear – A few years ago, we imported ALICE-brand products, partially because our owner is named Alice and partially because the quality for the price was quite excellent. We have primarily strings left (for all sorts of instruments).
Band/Orchestra Stuff – We have some strings, cork grease, rosin, and other essential accessories, along with some books for our strings, brass, woodwind and percussion friends.
MIDI / EDM / Recording Gear – A couple of us on the staff got into this at the beginning of COVID. We have some really fun pieces of gear, all reasonable offers entertained.
Piano Benches, Lamps & Related Piano Accessories – we will actually be continuing to stock a curated selection of these, to best serve our piano customers. But in the spirit of things, we will be offering modest discounts on in-stock items.
Why is Family Piano Moving the Main Store from Waukegan to Niles?
Coming to this decision wasn't easy. Just like it wasn't when we moved on from Joplin's Java, the Riverside Room and the School of Music. But we're all actually really excited about this change!
For over 15 years, we've done our best support local music the best we can. We just love it. And so a lot of our ventures were done in hopes of becoming a one-stop shop for music in Lake County.
But it has meant spending a lot of time on things that didn't make a lot of headway. They've been fun! But they've only really added about 2% to our bottom line despite taking wayyyyy more than 2% of our time.
So starting September 1st, Family Piano is going to start focusing on two things: families and pianos. Crazy, right?
We're turning Waukegan into a warehouse for budget pianos and a service center for our team of technicians to work out of. And we're turning Niles into our main retail location, just for the sale of pianos.
This means we're selling off the other instruments and accessories we carry — and discounting most of our pianos. We can either pay the moving fees or pass the deal onto you!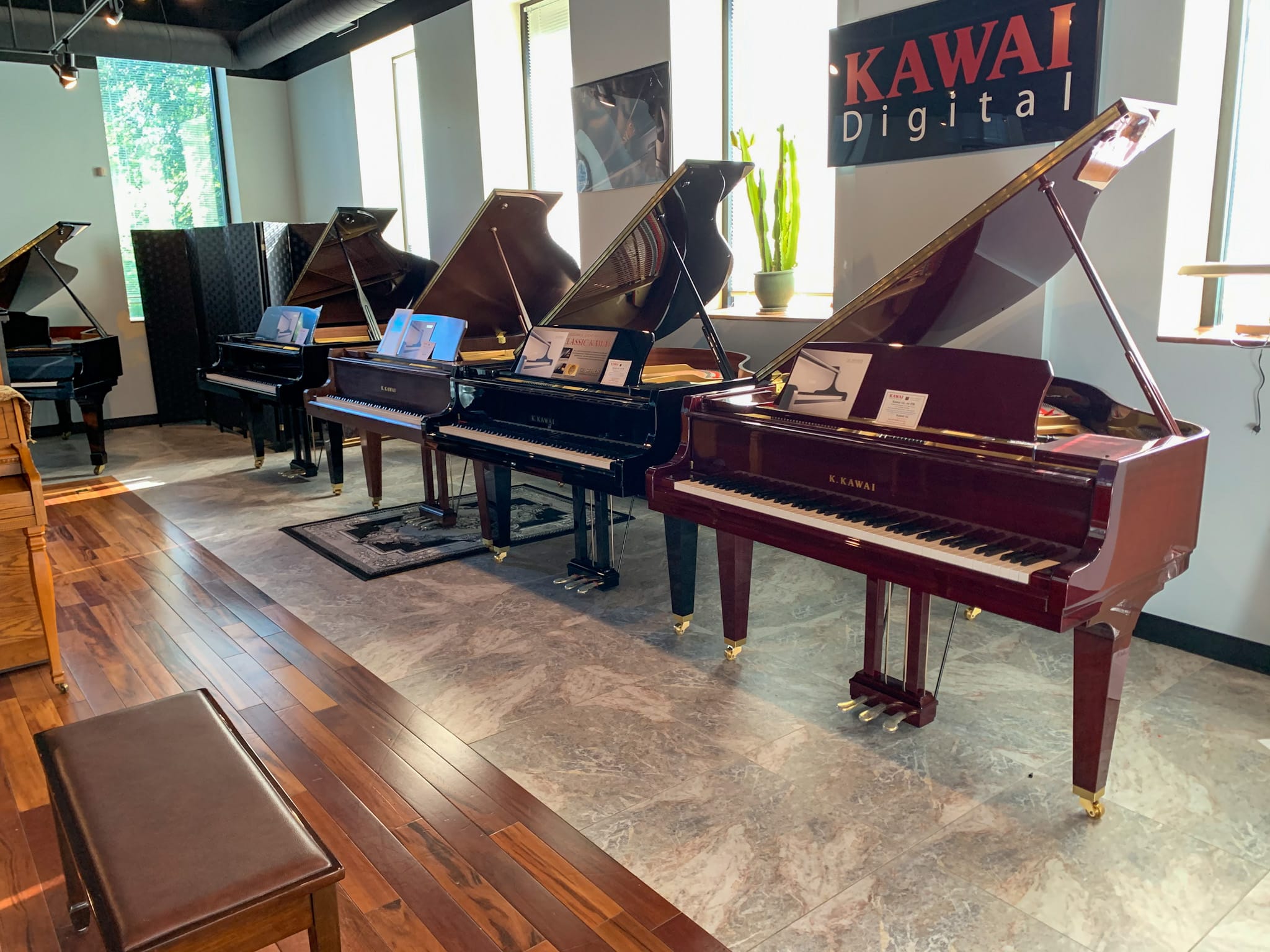 Our storefront in Downtown Waukegan, our previous retail location.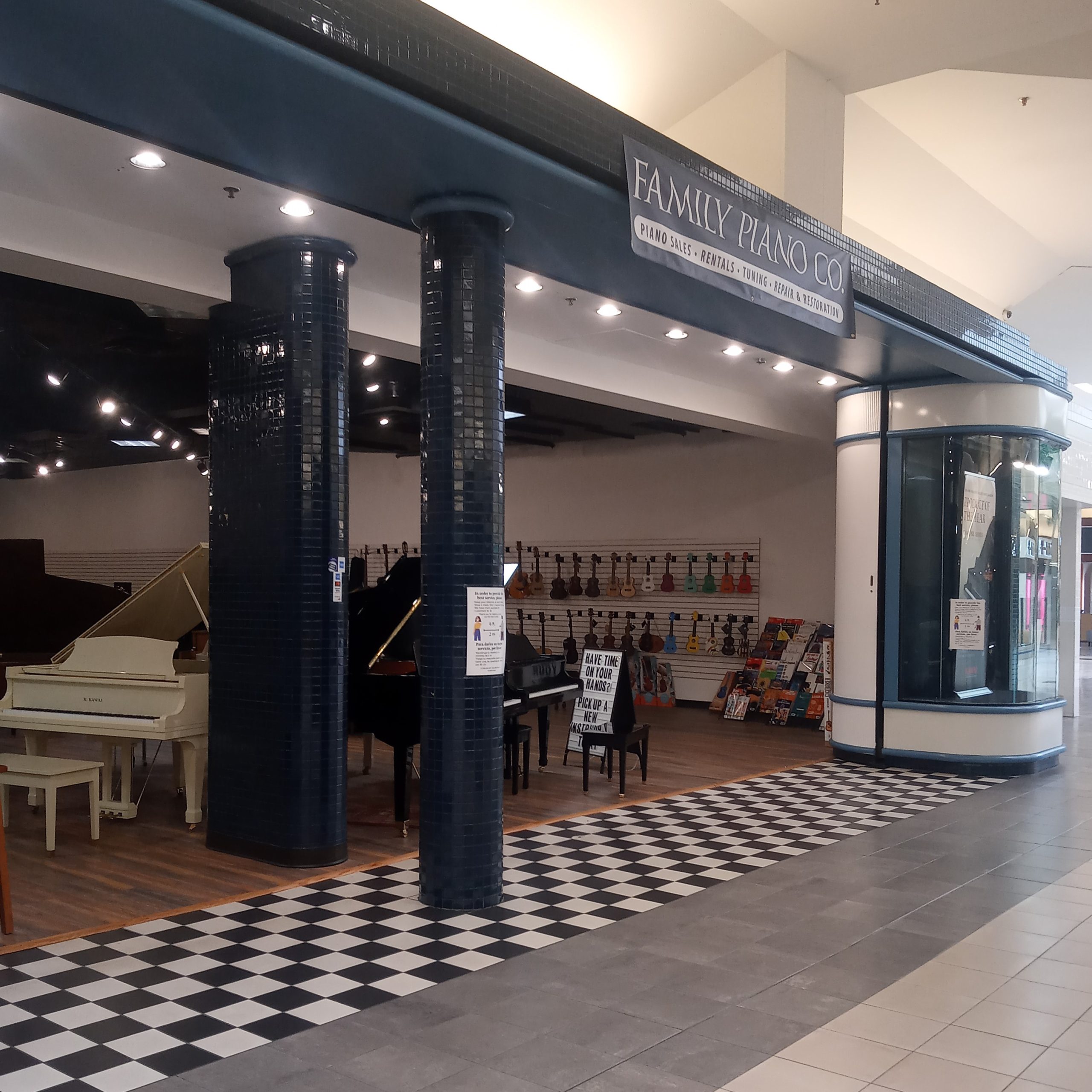 Our storefront in the Golf Mill Mall in Niles. Currently under a little construction to better reorganize for everyone! 
Piano "Warehouse Clearance" for
National Piano Month
So since we need to clear out a lot of room during September (which is National Piano Month AND Back-to-School Season!), we'd like to offer a simple incentive for all of our piano customers who finalize their decision between September 1st and September 30th, 2022:
We will still be using Kevin's Piano Moving, but you'll be saving:
$400+ on Grand Pianos
$300+ on Upright Pianos
$300+ Larger Digital Pianos
Save up to an extra $700 on Kawai models we have in-stock! Plus, in addition to these rebates, Kawai is pledging to donate to the Autism Science Foundation with every purchase!
Limited-time discounts on FP-10, FP-30, FP-90, RP-102 and more — plus 0% financing for 24 months!
The Fine Print: 
We will ask customers to transport smaller digital pianos themselves. You'll get it quicker and save Brendan from driving all over the place!
Flights of stairs (more than 5 steps) will run $100 – $200 per flight.
Offers are for new purchases made between September 1st and September 30th and are not retroactive or to be combined with any other offers.
Family Piano, Waukegan
118 S Genesee St, Waukegan IL 60085
(847) 775-1988
Open 12pm – 6pm, 7 Days a Week
Family Piano, Niles (Golf Mill Mall)
267 Golf Mill Center, Niles IL 60714
(224) 601-8500
Open 12pm – 6pm, 7 Days a Week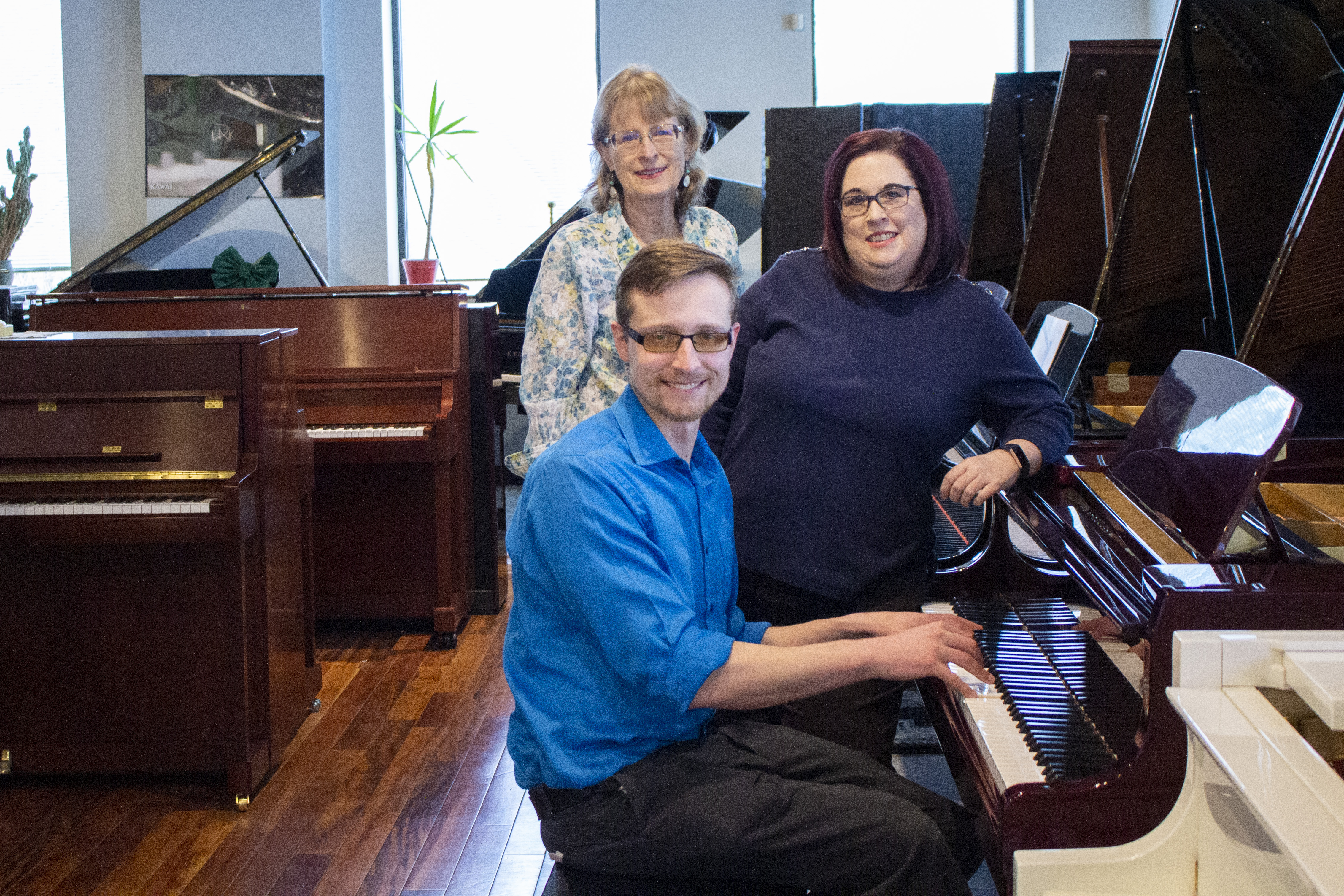 President and lead technician Alice Alviani (upper left) with VPs Linda Charboneau (right) and Brendan Alviani (at piano).
Technician-Owned & Operated
Every piano in our showroom is ready for you to play. We have the largest team of technicians in the Chicagoland area, and they tune and service each piano when it arrives, while it's here, and before it's delivered to your home. Affordable and reliable service, no matter what you need.
Educational Buying Process
Buying a piano shouldn't be hard or stressful. So we never get pushy or use sales tactics to "close deals." Instead, we focus on education. Even if only curious about piano, we'd love to give you a tour and let you play as much as you want!
Lowest Prices Guaranteed
Every piano in our showroom is clearly labeled with the lowest prices you'll find in the Chicagoland area. And if you do find a better price, we'll match it – and still give you our unbeatable service and guarantees.
Our Genuine Support — Forever!
Taking care of your piano and learning to play can be daunting. That's why we include a free tuning, warranty, and free admission to our group class with every purchase. If you ever have any piano-related questions, you can call us.
Established for 15+ Years
Since opening in 2006, we've become one of the best-reviewed piano stores in the area. We're genuine members of the local music community too – so we can connect you to the best instruments and resources around.
Years of Combined Technician Experience



PREVIEW OF SHOWROOM SELECTION
Acoustic or Digital,
New or Refurbished,
Upright or Grand. . .
And everything in between. We have a piano for every kind of player – regardless of budget, experience, or preference. Here's just a few of our best-sellers. 
The Best Reviewed Piano Store in Chicagoland
Actually, I'm pretty sure we were dethroned of that title. But we do have a perfect 88 reviews on Google, the majority of which are 5-stars. In fact, our single 2-star review is only that because the well-meaning customer marked it that on accident and didn't know how to fix it. At least she had nice things to say. 💛
A hillion jillion thanks to Brendan and Family Piano for helping me put the perfect finishing touch on our new condo. . . Less than 4 weeks after we moved, I walked into the Golf Mill store just to take a look–and less than 3 hours later, Brendan had delivered and set up my new digital Kawai. I'm already in love, and now I feel truly home again. Family Piano is truly "in tune" with each customer's needs and desires. I highly recommend them.

We were looking for a grand piano and didn't know where to start. Tony and Alice were an enormous help in explaining all our options and educating us on the different piano technologies. This can be an enormous task, almost like car shopping, but they were there to guide us along the way. I can't say enough about the outstanding customer service and would recommend this store to anyone buying a piano. They made the experience fun!!!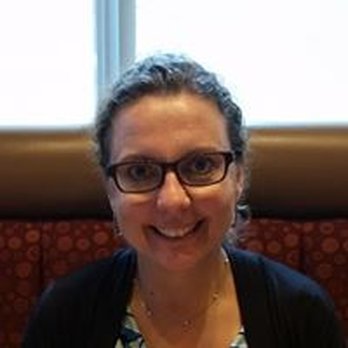 Impeccable customer service and a respectable collection of new and used pianos spanning a wide range of prices. Definitely worth a visit, whether you're a seasoned musician or just starting out.

Purchasing the piano here was, quite simply, a joy. . . They are that rare find: delightful, honest, and as good as their word. Got to love family businesses!!!!

In-Home Piano Tuning & Repair
Affordable Aftercare & Speedy Service
Family Piano has the largest team of technicians in the Chicagoland area. That means you'll never have to wait long to get your piano tuned or serviced — which is nice in a pinch!
And no matter what piano you buy, you're backed by at least a 3-year warranty. We guarantee your piano will play its best. And we won't charge you an arm and leg for the piano either! 

Schedule your tunings with us for as low as $125. Using industry-standard technology (and a well-trained ear), our experienced tuner will adjust the tension for all 200+ of your piano's strings so that each is at its perfect pitch.

Our team spends multiple days on each piano before it goes onto our floor. After going through our 30-point checklist, we guarantee a piano will sound its best, feel its best, and look its best. We even guarantee this work with a 3-5 year warranty.

Whether you're having trouble turning your instrument on or want to fix a worn-out cabinet, Family Piano has your digital piano repair needs covered! Our certified Electronics Technician, Paul Durand, will give you the help you need.
Set an Appointment to Help us Move
Well, not literally. We won't ask you to grab any boxes. But come visit the Waukegan store one more time (or the improved Niles store for the first time), play a few pianos, and maybe ask yourself if you could use one in your home.
No pressure whatsoever. 👍🏼
(847) 775-1988 // info@familypiano.com
118 S Genesee St, Waukegan IL 60085 // 267 Golf Mill Center, Niles IL 60714
Open 7 Days a Week, 12pm-6pm
Other Appointments Available by Request