As a piano teacher, the most common question I get from folks who are anxious to give their child(ren) a head start: is my child ready to start piano lessons? What's the best age to start piano lessons for kids?

Having music as a central part of your life provides many benefits. And since parents want the best for their children, it's understandable to think that the earlier their child starts piano lessons, the better off they'll be.
But as someone who's taught beginners starting from the age of four all the way up to around sixty, I can tell you that starting a child on piano before they're ready to start learning can at best have little benefit as opposed to waiting a few more years — and at worst can discourage the parents or child from continuing with piano due to slow progress.
Let me give you a few pieces of advice based on research and personal experience teaching so you can better understand when your child will be ready to start playing piano.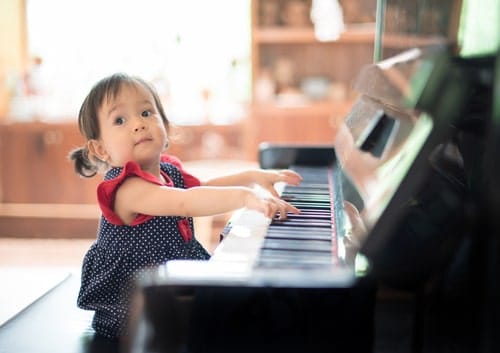 When do kids generally start piano lessons?
As a general statement, the best age to start piano lessons for the majority of children is 6 to 9 years old.
This isn't a hard rule or anything though. It's just generally around this age that children are physically, mentally and emotionally developed enough to start lessons.
How will you know if that's true in you case? Here's what parents should look for in their children before sending them off to the lesson room:
Musical Interest – Does your child love dancing? Listening to music? Are they drawn to pluck at the keyboard you have at home? If the answer to this is yes, it's certainly a good sign!
Basic Motor Skills – Beginning piano before a child has a decent amount of control over their own hand motions can be a fruitless endeavor. The good news is that piano playing will help develop these skills much faster, but they need to be present from the start before serious learning can occur!
Motivation to Learn – Does your child love to learn new things? Are they motivated to stick to something that can't be accomplished in just a few days?
Ability to Focus – This is huge. Can your child hold focus on one subject for 20-30 minutes? If so, they may be ready to sit down and learn in a music lesson setting.
Maturity – Is your child a good direction follower? Do they rise to challenges well? If so, they're probably ready to put in the work to learn an instrument.
If your child checks off these boxes then congratulations, you have a bright young learner who's ready to start learning piano! I can easily recommend 15 to 30 minute weekly lessons with a qualified piano instructor.
Otherwise, it's best to start them off with a keyboard at home that's able to play music easily. You don't have to get an expensive digital piano or even a 88-key keyboard either! The purpose of this is to put some level of piano in their life; it's not necessarily the instrument they have to learn on later.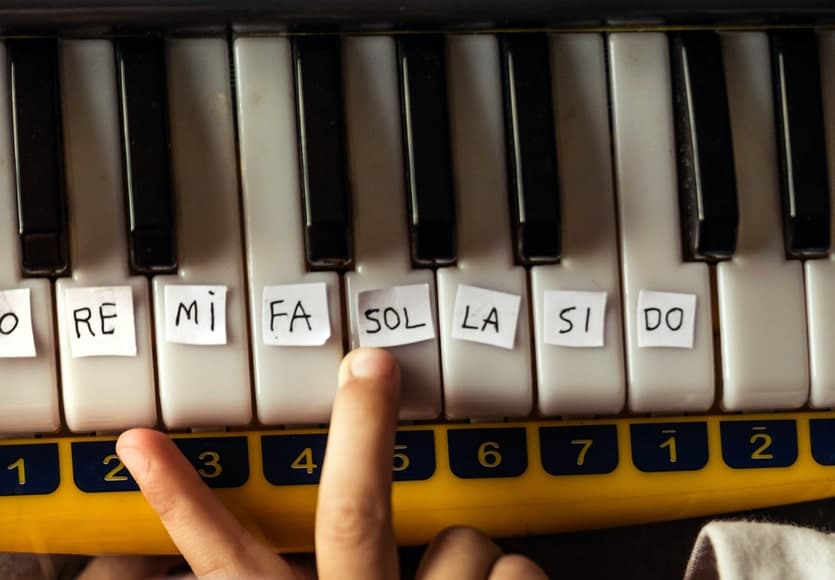 Is starting piano at a younger age more beneficial?
Research has shown that children who start musical lessons at a young age tend to have better memory and spatial-temporal skills, and they may also perform better academically.
So naturally, some parents may want to start their kids on piano younger than the age of 6. And it's certainly feasible — some children can start earlier than 6 years old. Mozart actually started at age 3!
While you shouldn't expect Requiem in D from all young beginners, children as young as three or four years old can start learning basic concepts on the piano, such as how to sit at the instrument and how to find and play individual keys.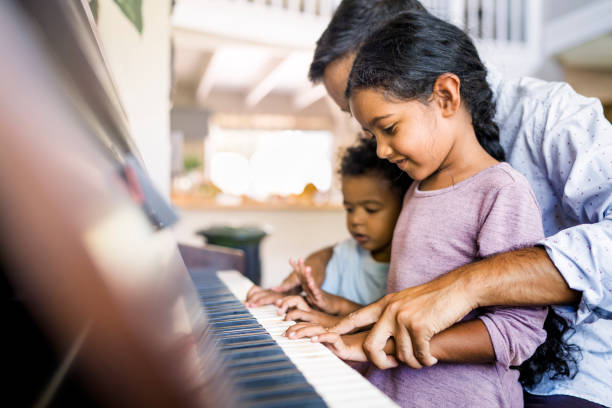 However, we definitely want to encourage you to follow some of the guidelines we listed above. Piano playing at the very least requires a certain level of motor skills, a certain length of fingers, and a certain attention span. Moreover, if your child is shy or anxious around new people or situations, they may not be ready for formal piano lessons just yet.
Ultimately though, the decision of when to start piano lessons will depend on their interest. If your child is four years old and begging to start lessons, you may be able to find a teacher who can work with their age and skills to create a positive and encouraging learning experience.
More than anything else, the desire to learn is most important, and that's what's going to maximize the benefit of music lessons at any age!
Is starting piano at an older age any worse?
If your child still isn't quite ready at the age of 9 or there are other factors preventing them from starting lessons, that's not a problem in the least.
It is never too late to start learning the piano or any other musical instrument. 
While it may be easier for younger people to pick up new skills, it is possible for anyone to learn the piano at any age. And we're not just talking about teens either; parents can start taking lessons alongside their children too!
Many people do start learning the piano later in life and are able to make significant progress with dedicated practice. Like with any skill, the better practice you put in, the better you become.
Yes, starting at an older age may mean students have to put in more practice to catch up to someone who started learning at a younger age. However, playing piano does not have to be competitive — and it shouldn't be if your goal is simply to play a beautiful instrument!
So no, starting piano at an older age (whether that's 10 or 110) is not any worse. The older you get, the more dedicated you have to be — but the payoff you get from your efforts is a hundredfold in any case! 
Overall: kids can start piano lessons when they're ready!
So what is the best age to start piano lessons? Well, as with many things in parenting, there is no one-size-fits-all answer to the question. What we recommend is simply talking to your child to find out what they think.
Every child is different and has their own unique strengths, interests, and learning styles. However, if they have the interest and motivation to learn, basic motor and concentration skills plus a bit of maturity, we think they may be ready.
What's true in any case and at any age is that learning to play the piano is a rewarding and enriching experience. Giving your child a musical education will give them the opportunity to develop their creativity and problem-solving skills, improve their fine motor skills and hand-eye coordination and be a great way for them to express themselves and build self-confidence. We are sure they will thank you for it some day!