Authorized Roland Piano Dealer
Roland: Turning Pianists into Performers
With a great action and many controls and customization, a Roland piano is the perfect partner for practice and performance.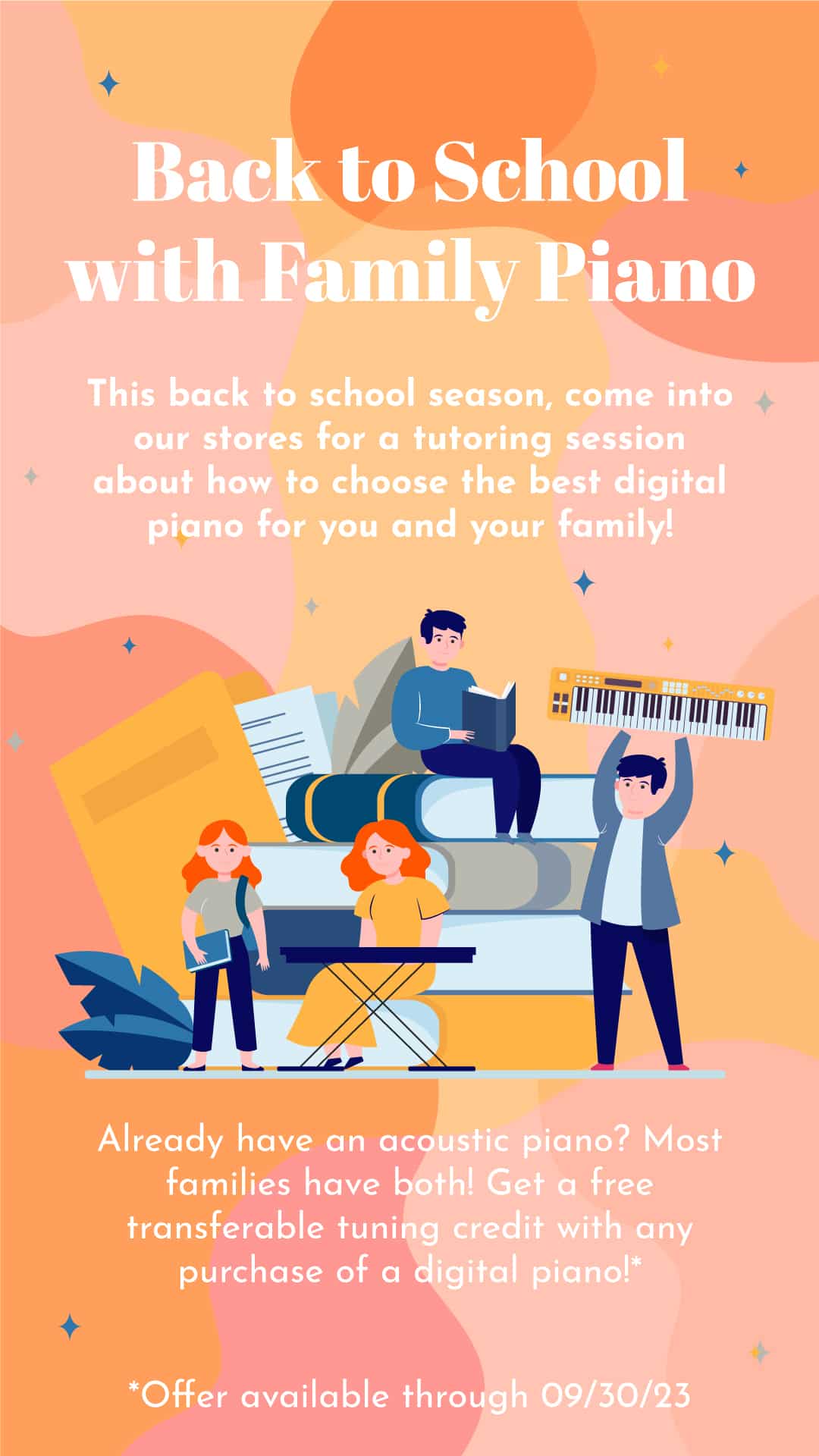 Free Tuning with Any Digital Piano?!
Probably about half of our customers have both an acoustic AND a digital piano.
So for all of the acoustic piano owners out there who are interested in finally having all of the benefits of a digital piano, we have a special promotion just for you – a credit for a free piano tuning with the purchase of any digital piano over $499!
Digital pianos don't need to be tuned, but hey, we're here for all of your piano needs.
And if you don't have an acoustic piano? You can gift your tuning credit to a friend or family member and look mighty generous.
Tuning needs to be redeemed by Dec 31, 2024. May not be combined with other offers. We may need to verify redemption with the original purchaser, if the credit is gifted. Piano needs to be located in our service territory – basically north side of Chicago up to Racine and about as far west as Barrington-ish area.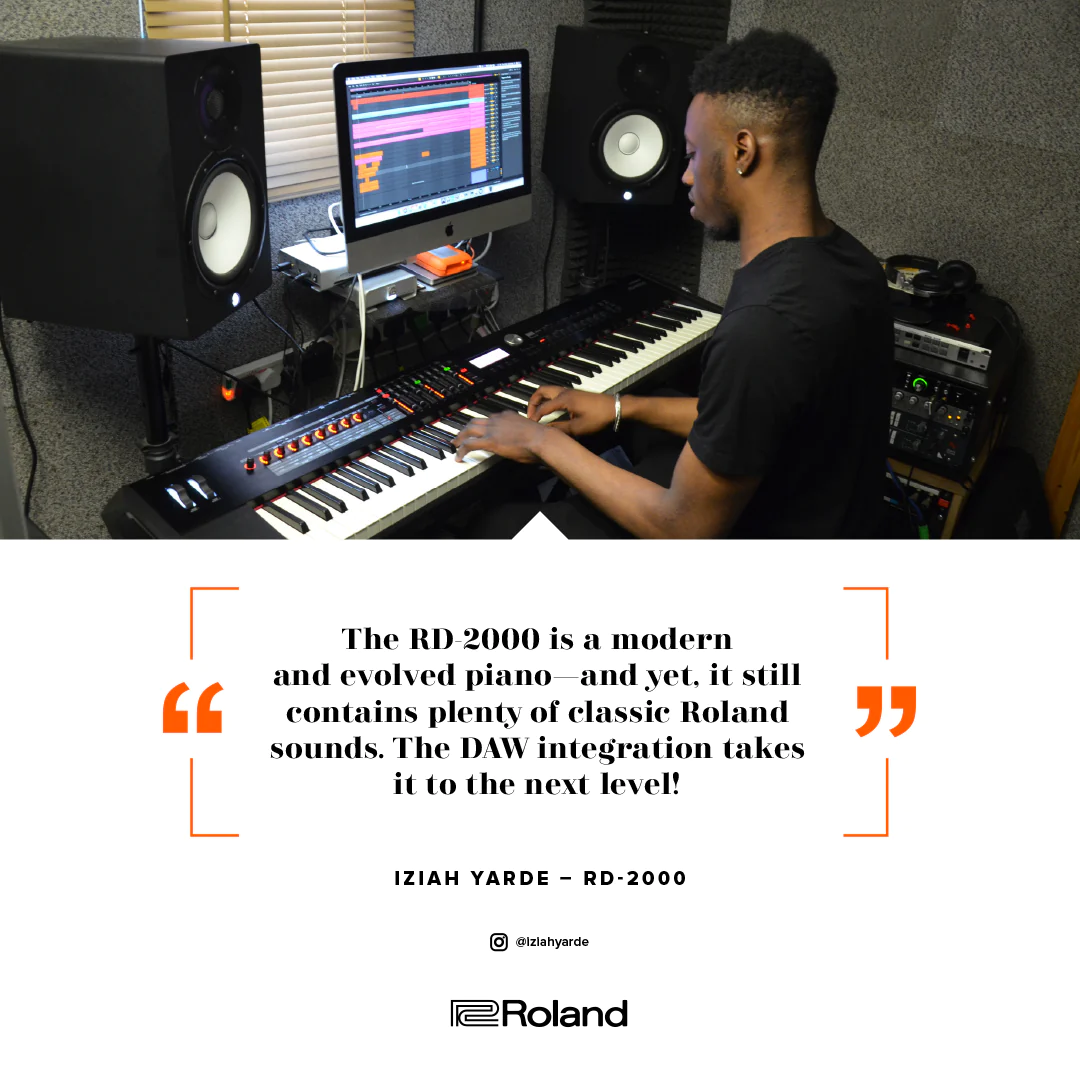 Suitable In-Home, On-Stage or at the Studio
Roland is perhaps best known for their groundbreaking synthesizers and iconic drum machines.
But they also have versatile and state-of-the-art digital pianos in grand, console, stage, and specialty styles!
Some of the most popular digital pianos for beginners are the FP-10, FP-30X, FP-60X and FP-E50—all featuring the SuperNATURAL sound engine and PHA-4 Standard action.
Additionally, the range-topping FP-90X allows even more sophisticated performance, complete with Pure Acoustic Piano Modeling, their PHA-50 Hybrid action, and tons of controls.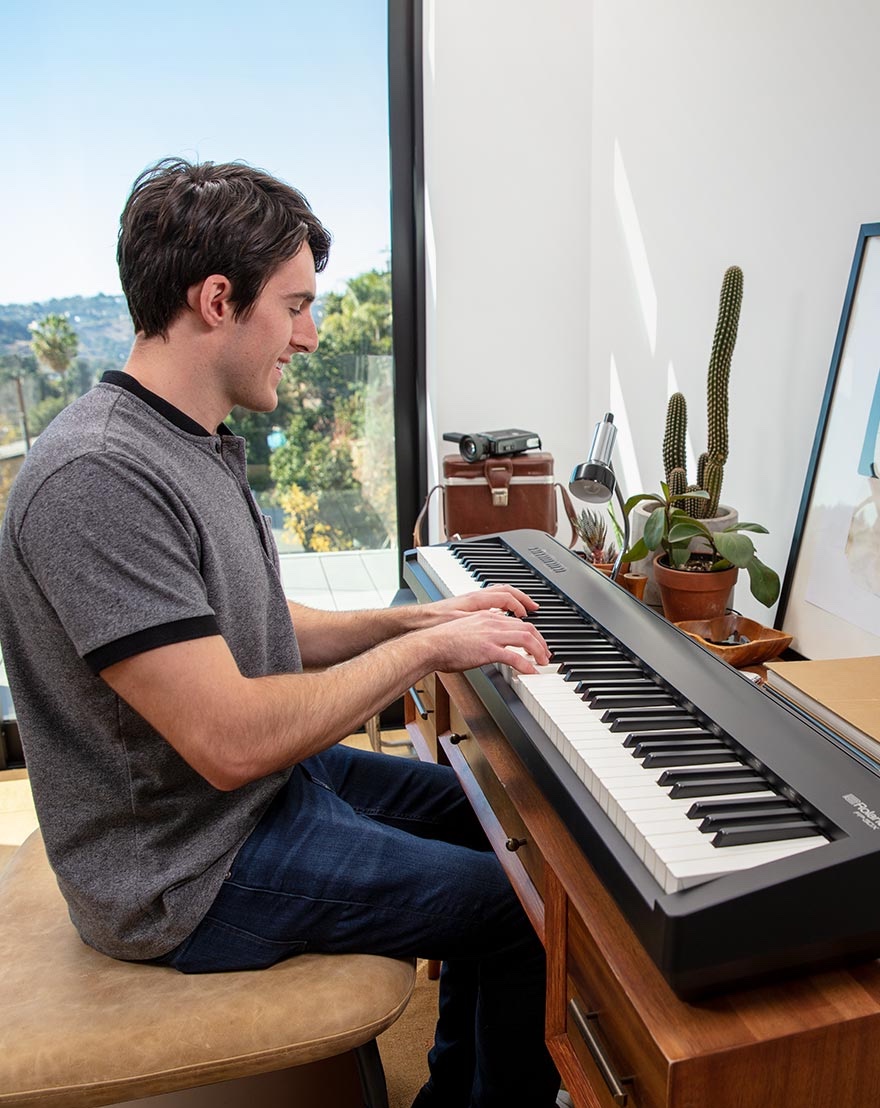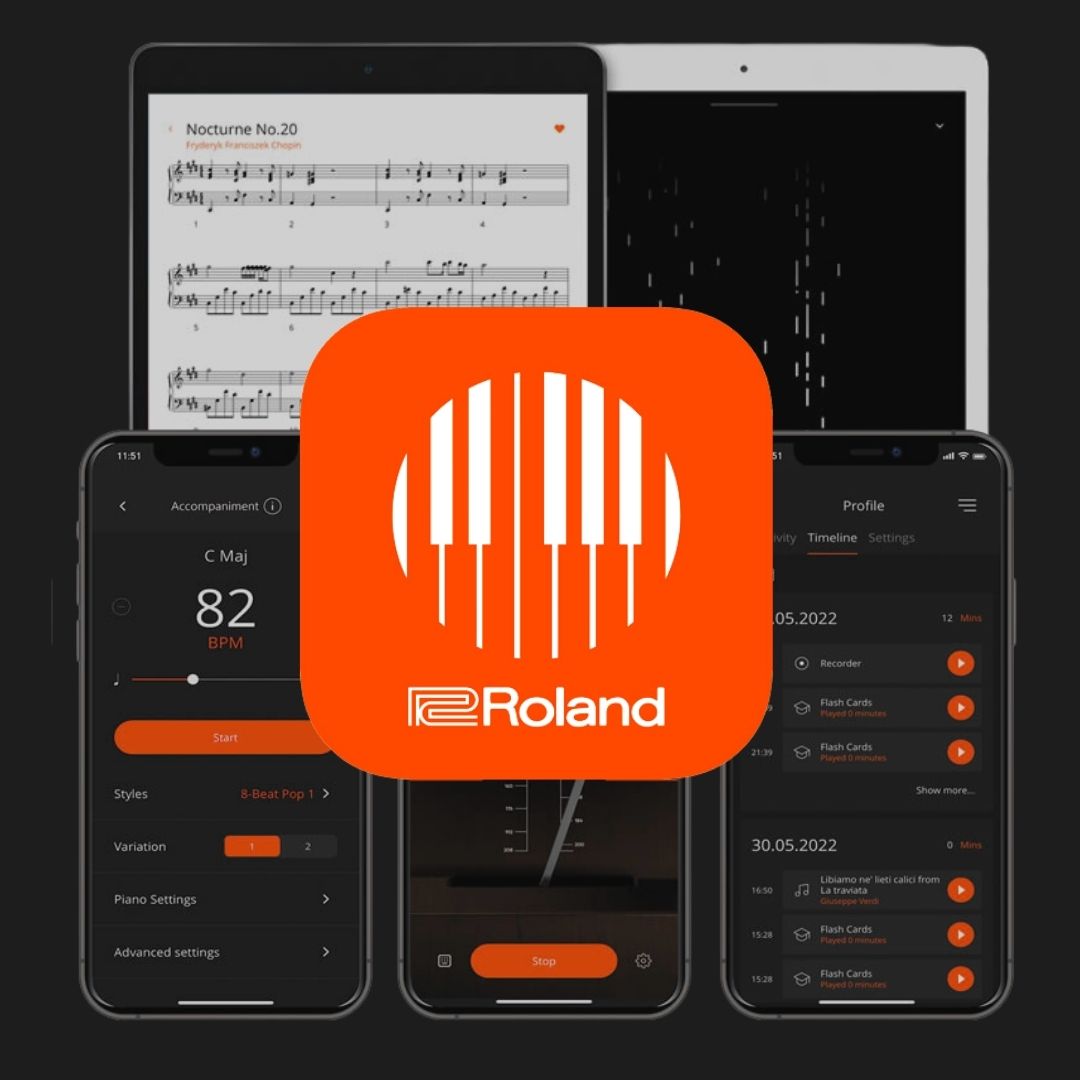 Roland Piano App: An App You'll Love Using
Get practice reminders, customize your piano's settings, access a libraries to play along to, and even learn new songs — all with the Roland Piano App (iOS/Android).
Roland Corporation was founded by Ikutaro Kakehashi in Osaka, Japan.
Its very first branded products were the TR-33/TR-55/TR-77 Rhythm Machines. The following year in 1973, they then released Japan's first synth, the monophonic Roland SH-1000.
The Roland EP-10 had introduced a sound engine that was all-electronic and oscillation-based in 1973.
The next year, The Roland EP-30. had a touch-sensitive keyboard that sensed velocities when you played soft to hard.
These were groundbreaking advancements then, and the latter's a standard for digital pianos now.
Arguably Roland's biggest claim to fame, the TR-808 was a rhythm machine that allowed musicians to program an entire song. 
The drum patterns of the TR-808 became so popular they're still heard and used today, and the machine itself gained worldwide recognition.
Roland actually co-developed MIDI, which allows electronic instruments to communicate with each other. 
Their HP-300 and HP-400 were the very first digital pianos to feature the technology,  and the JX-3P was the first synthesizer.
Moreover, the two-piece cabinet design of the pianos were another innovation that continue to be a standard for console digitals today.
Roland made their name with analogue instruments, but the world was going digital by the mid-80s.
Thus was born the RD-1000 Stage Piano: the world's first digital piano to synthesize a piano's tone digitally.
According to many, it blew other digitals of the time out of the water, so much so that it was even used by Elton John on tour.
The first V-Piano Grand in 2011 was dubbed the "world's first 'stringless acoustic piano.'" Then 2017 marked the next-gen stage piano with the RD-2000. And their latest LX series digital pianos have been award-winning instruments as well.
Roland is responsible for many digital piano standards, and they've made pianos that look as good as they sound all the meanwhile.
Is Roland a good piano brand?
Yes, Roland is a reputable brand that makes respected pianos.
Their pianos often feature advanced digital technology that aim to provide an authentic piano touch and sound.
Roland's digital pianos offer a range of options, from entry-level models to more advanced (and award-winning) series.
We're also really big fans of how they support their customers ie. Roland piano support on YouTube.
Which is better: Roland or Yamaha digital piano?
Both Roland and Yamaha are respected and offer several high-quality digital pianos, each with their own strengths.
It's impossible to say which makes better digital pianos objectively. That comes down to what you're judging them on, which then depends on your own preferences.
Roland is a brand that enjoys innovation and versatility, and that keeps performers in mind. Their stage pianos are some of the best on the market, and their entry-level models are very well-regarded among beginners.  
Yamaha is better known for replicating the acoustic piano playing experience. They often use high-quality samples from their acoustic pianos where Roland synthesizes a piano's tone digitally.
Ultimately, the "better" choice depends on your musical preferences and what features you value the most. Both Roland and Yamaha are good brands, and their digital pianos each have their own unique benefits.
Does Roland make acoustic pianos?
No, Roland does not make acoustic pianos.
Roland is a leading brand for electronic musical instruments like keyboards and synthesizers, rhythm machines and electronic drums.
Manufacturing acoustic pianos is an intense process that requires tons of expensive parts and specialized labor.
Roland instead sticks to what they're best at: making innovate electronic instruments that inspire musicians.
Where are Roland pianos made?
Roland is a Japanese company with factories in Japan, Taiwan, the United States and Malayia.
What is the best Roland digital piano to buy?
The "best" Roland digital piano for you depends on your preferenced and budget.
However, here are a few notable Roland digital piano models that are highly regarded and offer excellent features:
Roland FP-30X: This is a popular choice for beginners thanks to its balance between quality, affordability, and portability. It features Roland's SuperNATURAL Piano sound engine and PHA-4 Standard action which makes for a value-packed digital piano.
Roland RD-88: If you're looking for a stage piano with professional features, the RD-88 is a great option. It offers a wide range of sounds, including acoustic and electric pianos, and it features a lightweight design for gigging musicians while keeping a realistic piano feel.
Roland LX700 Series: These models are part of Roland's premium home piano lineup known for their elegant cabinet designs, immersive sound systems, and responsive keyboard actions.
Roland GP607: If you're looking for a grand piano experience in a more compact size, the GP607 offers a hybrid piano design with a smaller footprint, advanced sound modeling, and a pretty realistic action.
How much does a Roland digital piano cost?
The cost of a Roland digital piano varies widely depending on the model, features, and specifications.
Here's a general price range to give you an idea:
Most Affordable: Roland FP-10 has a sticker price of $599.
Entry-Level Models: Roland offers entry-level digital pianos that start around $600 to $1,300. These models are suitable for beginners and offer essential piano features.
Mid-Range Models: Mid-range Roland digital pianos with more advanced features typically range from around $1,400 to $5,000.
Premium Models: High-end Roland digital pianos with top-tier sound technology, their most realistic actions, and the widest feature set go for around $5,000 to $10,000+.
Most Expensive: Roland GP-9M in Polished White has a sticker price of $19,999.
Why Buy a Casio Piano at Family Piano?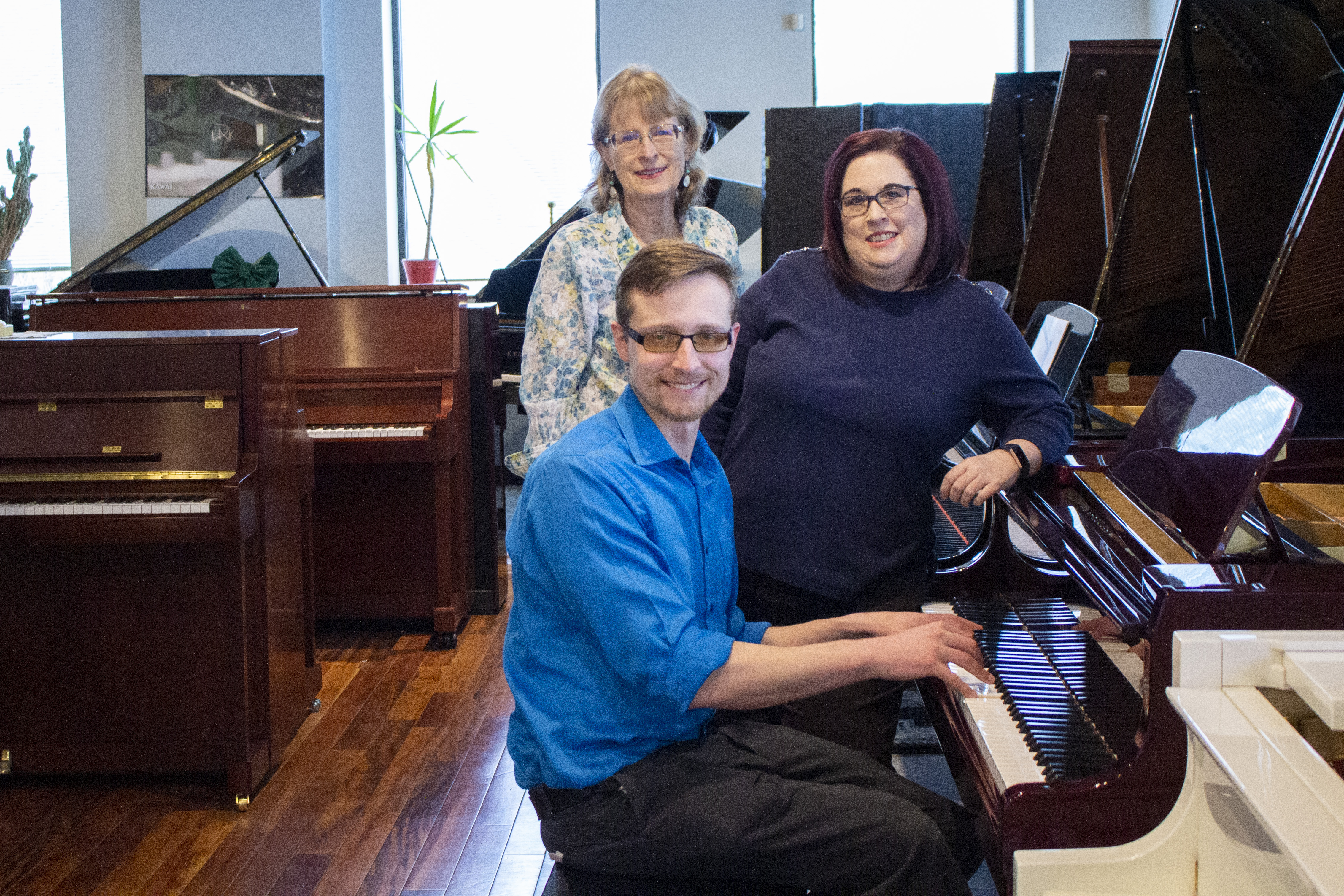 Founder and head tech Alice Alviani (upper left) with vice president Linda Charboneau (right) and president Brendan Alviani (at piano).
Try Many Before Picking One
We all love online shopping, but you should definitely play a piano before buying it. We stock all the best-selling models from Kawai, Casio and Roland so you can compare them for yourself!
Stress-Free Shopping
Buying a piano should be fun! So we never get pushy or use sales tactics to "close deals." Instead, we focus on education. Even if only curious about piano, we'd love to give you a tour and let you play as much as you want!
Worry-Free Ownership
Taking care of your piano can be daunting. That's why we include a warranty with every purchase, and have a digital technician on-staff. And if you ever have any piano-related questions, advice is just a call away.
Lowest Prices Guaranteed
Every piano in our showroom is clearly labeled with the lowest prices you'll find in the Chicago area. And if you do find a better price, we'll match it – and still give you our unbeatable service and guarantees.
Experts You Can Rely On
Since opening in 2006, we've become the best-reviewed piano stores in the area. Our staff is full of piano lovers, and we have the largest team of techs in the Midwest. 

An unexpected surprise. We bought a Roland electric piano and had a wonderful experience the whole way through. Excellence all around.

. . . made me comfortable just playing when I wasn't buying and made me a great deal on the [Roland] model I'd been playing on when my situation changed. Great experience all around.
Use this form to send a message directly to our inbox. You can ask for an appointment or anything else!
You can also chat with us, call us at (847) 775-1988 or email us at info@familypiano.com.
Our stores in the Golf Mill Mall and in Downtown Waukegan are both open every day from 12pm to 6pm.