HOW TO SELL OR DONATE YOUR PIANO
Are you moving and want your piano to go to a good home?
Are you looking for some advice on how to sell your piano?
Are you in the Chicago or Milwaukee area?
Then we can help find the best solution for you!
While we can't take in every piano that's offered to us, we can at least give you tips for selling it privately or refer you to a different stores that might be interested!
PLEASE READ BEFORE CONTACTING US
If selling: we only take pianos in on consignment. And to be upfront: you'll make the most cash selling the piano privately!
It's not always just about the piano! We also have to consider our current inventory, space, tech team availability, etc. 
If donating: we can't offer tax-deductible letters. We can point you towards someone that can if you'd prefer though.
Moving isn't as expensive as you might think! It doesn't hurt to get a quote. We want to be sure you considered all your options.
We don't usually take in digital pianos (unless on trade-in). Honestly, they just take us a lot of work and time to sell.
Double-check that your friends or neighbors aren't interested in the piano — and that your family won't be offended if we take it in!
Note: We DON'T take any pianos from outside of the Chicago-Milwaukee area!
Step 1 – Send Us Information
To start, email brendan@familypianoco.com with all the information you have on the piano. He'll follow up with any other questions needed. Here's a list of some ideas to start:
Brand – Usually found just above the keys. Steinway, Yamaha, Kimball, Baldwin, etc.
Model – Helpful if applicable, but not every piano has a model name. Typically looks like G157 or U121 for Young Changs, "M" or "L" for Steinways, etc. Usually found under the lid, near the tuning pins.
Serial Number – Very important for figuring out when and where the piano was built! Usually a 5-7 digit number, but exactly what it looks like and where it's located varies. Please try your best! And please note any issues, like if you can't tell if a particular digit is a 1 or 7, for example.
For help, watch LivingPiano's video, How to Find the Serial Number of Your Piano.
Size – To the closest inch. The most important measurement is the height in upright pianos (from the top of the lid to the floor), and length of grands (from rounded end, up to and including keys). 
History – When was it last tuned? Do you remember the tuner's name? How long have you owned it? Do you know how many other owners it's had? 
Pictures – Simple cell phone shots are fine! We're looking for a couple photos of the outside of the piano (including the back of an upright or the underside of a grand, as possible), and a few of the inside. Please send photos of any damage you notice — we'll definitely notice when it comes in! 
Contact Info – Name, email, number(s), etc.
Location – Not just the city, but also where the piano is within the house. Any steps, staircases or tight turns to get it outside? It'll affect our moving cost so it is relevant!
Note: we DON'T take pianos outside of the Chicago-Milwaukee area! 
Expectations – Do you prefer to sell the piano? How much are you hoping to get? Are you interested in trading in your piano? Is donation an option? Does your piano need to be moved out quickly? Please let us know — it helps speed up the process!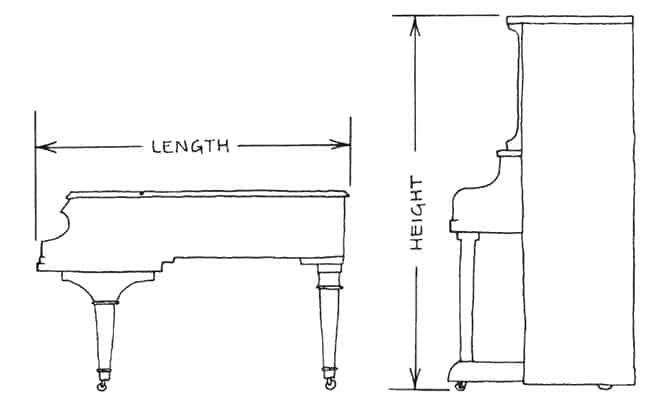 If we decide we can take in your piano ourselves, we'll start talking details. Once we iron out a win-win arrangement over the phone, we'll put together a donation or consignment agreement.
There isn't a universal "best option" for everyone so we might be in discussion for a bit. For reference, here are some common advantages and disadvantages to different arrangements: 
Terms & Advantages of a Donation
Typically for lower-valued instruments, especially for most used uprights — but availability depends on our inventory
We will completely cover the moving costs, and try to get the piano out as soon as is convenient to you
Helps keep the cost of our beginner-friendly instruments low so that families on any kind of budget can afford a piano 
Conditions for a Direct Sale
Very rarely an option unless we have a dire need for inventory
We typically pay with a check or a direct PayPal deposit into your account before pick-up
Terms & Advantages of Consignment
Typically the only option for any piano we can make an offer on, especially for grands pianos
Can be 3-9+ months before piano is sold and you're paid — depending on market and consumer tastes
Quick and easy process, and especially great if you need the piano out of your home fast
Advantages & Disadvantages of Selling Yourself
Best option if you'd like to make the most money possible for your piano
We will send your a list of tips and resources to help you make an effective and attractive listing
You'll need to deal with coordinating movers, technicians and appointments — which can take up a bit of of time and money
No telling how long it'll take to sell the piano 
Step 3 – We Pick Up the Piano
Once we're both happy with the agreement, we'll pay Kevin's Piano Moving to safely and professionally pick up your piano. It goes from your home to our store at no charge to you!
Kevin's Piano Moving works out of Antioch IL. They have two trucks and a well-trained team that travels all over Chicagoland, sometimes beyond. If your piano is located within Kenosha County, Lake County, or Cook County, it's definitely within their service area!
Because they're a separate company, Kevin's will call you to schedule the move directly.
We have no control over their calendar, but here's a general idea of their schedule:
Pick-up can usually be arranged within a week, and often quicker, depending on how busy they are.
Kevin's crew works Monday through Friday; you'll have to ask them for their availability if you'd prefer a weekend. 
Generally, you'll get a two-hour window for their arrival — for example, Tuesday morning, from 9 am to 11 am.
Once the Piano Arrives. . .
Soon after pickup, your piano's delivered to our showroom where we begin refurbishing it. In short, your piano is fixed up nicely by our team of technicians. We then start working on finding your piano a loving new home!
Our full refurbishing checklist is pretty extensive, but we'll basically make your piano do three things: 
Look Its Best
Overseen by our shop manager, Julie Dodds — one of the best case touch-up experts in the Midwest, — we make sure our pianos are not only clean inside and out, but also look the best they can.
Cleaning & Repairing the Case
Dissemble piano as much as possible
Blow out all the dust, wipe down all the parts
Vacuum under the keys and in the action
Polish metal pedals, knobs, hinges, etc.
Buff out minor scratches and case imperfections
Repair any and all chips, especially at corners
Color-match any necessary fills for significant scratches
Inspect for any remaining possible flaws to fix
Feel Its Best
Adjusting the action of each of the piano's 88 keys improves its feel. This means better control and allows better technique. We have a 30-point checklist that covers this regulation work. 
Regulate the Mechanical Action
Tighten up screws throughout the action
Level the key height & dip (how far down it goes)
Lubricate pivot points for reduced friction
Shape the hammers by gentling sanding away worn-in grooves
Fine-tuning the timing of dampers
Standardize distance of hammers from strings
Adjust back-checking, lost motion, let-off & other subtle mechanisms
Sound Its Best
Each piano has over 200 strings that we have to tune. Our expert techs use the best of their ears and tuning software to give every piano a quality tuning that will last.
Every Piano Tuned – We work hard to have every piano in our showroom regularly tuned and serviced, so that customers know if they like its real sound and feel.
Final Inspection – Once a piano is picked out, we do a final tuning and inspection right before delivery. Every piano purchased at Family Piano is ready to play the moment it's delivered.
In-Home Tunings – We include a free tuning with every piano. Regular visits from our technicians ensure your piano continues to look, feel and sound its best!