Low Maintenance, High Versatility Pianos
Digitals are a popular choice for many beginning pianists. They're affordable and feature-rich — and they don't require tunings!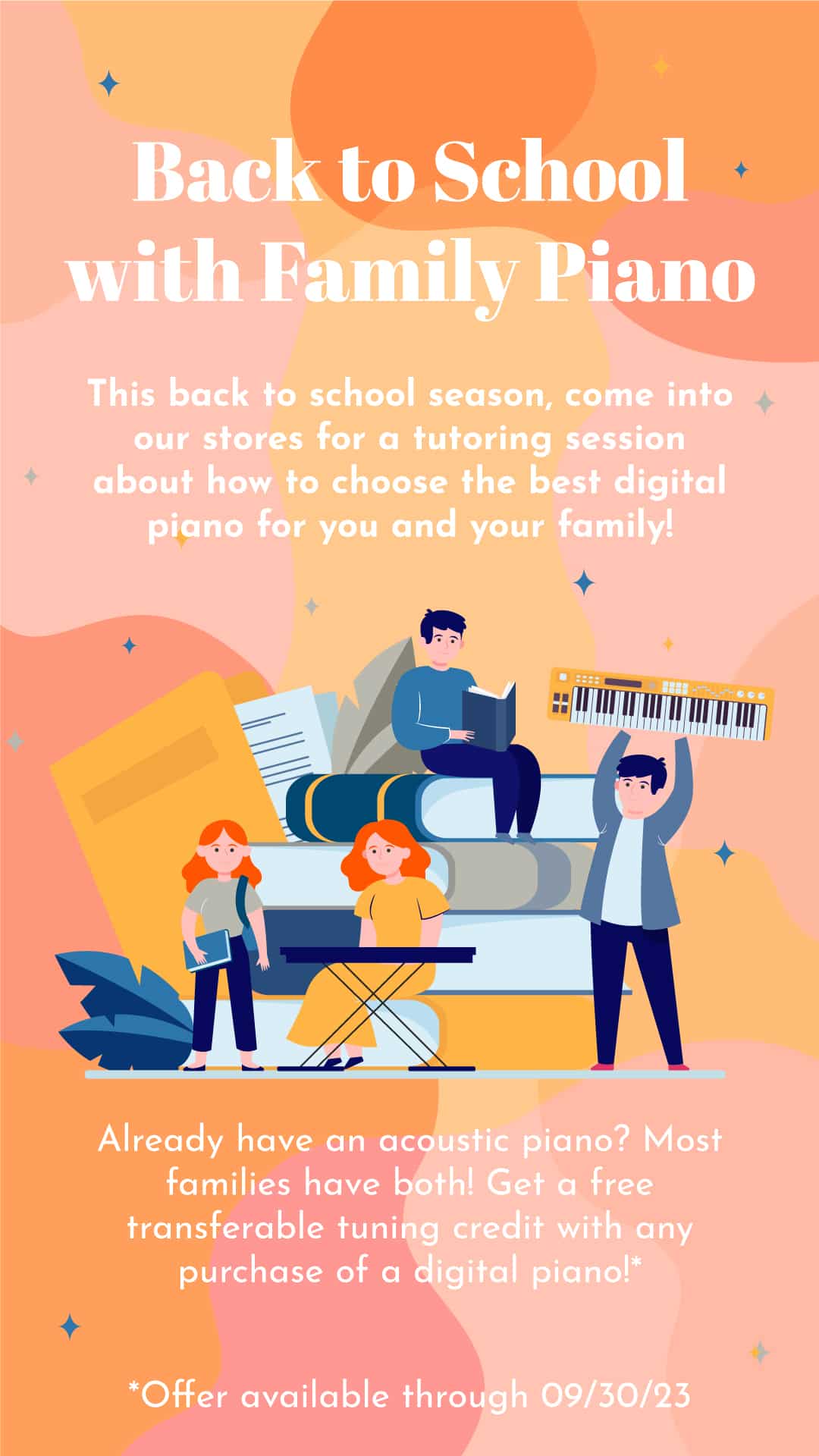 Free Tuning with Any Digital Piano?!
Probably about half of our customers have both an acoustic AND a digital piano.
So for all of the acoustic piano owners out there who are interested in finally having all of the benefits of a digital piano, we have a special promotion just for you – a credit for a free piano tuning with the purchase of any digital piano over $499!
Digital pianos don't need to be tuned, but hey, we're here for all of your piano needs.
And if you don't have an acoustic piano? You can gift your tuning credit to a friend or family member and look mighty generous.
Tuning needs to be redeemed by Dec 31, 2024. May not be combined with other offers. We may need to verify redemption with the original purchaser, if the credit is gifted. Piano needs to be located in our service territory – basically north side of Chicago up to Racine and about as far west as Barrington-ish area.
Don't know which digital piano to pick? Here are a few of our bang-for-the-buck favorites!
This feature-packed digital can make anyone sound like a million bucks, with it's very impressive speaker power and extensive accompaniment features.
It's a great buy at $999, but until September 30th, Roland is offering a $100 instant rebate! We literally can't believe you can get it for $899, but hey, sometimes the universe works in mysterious and miraculous ways.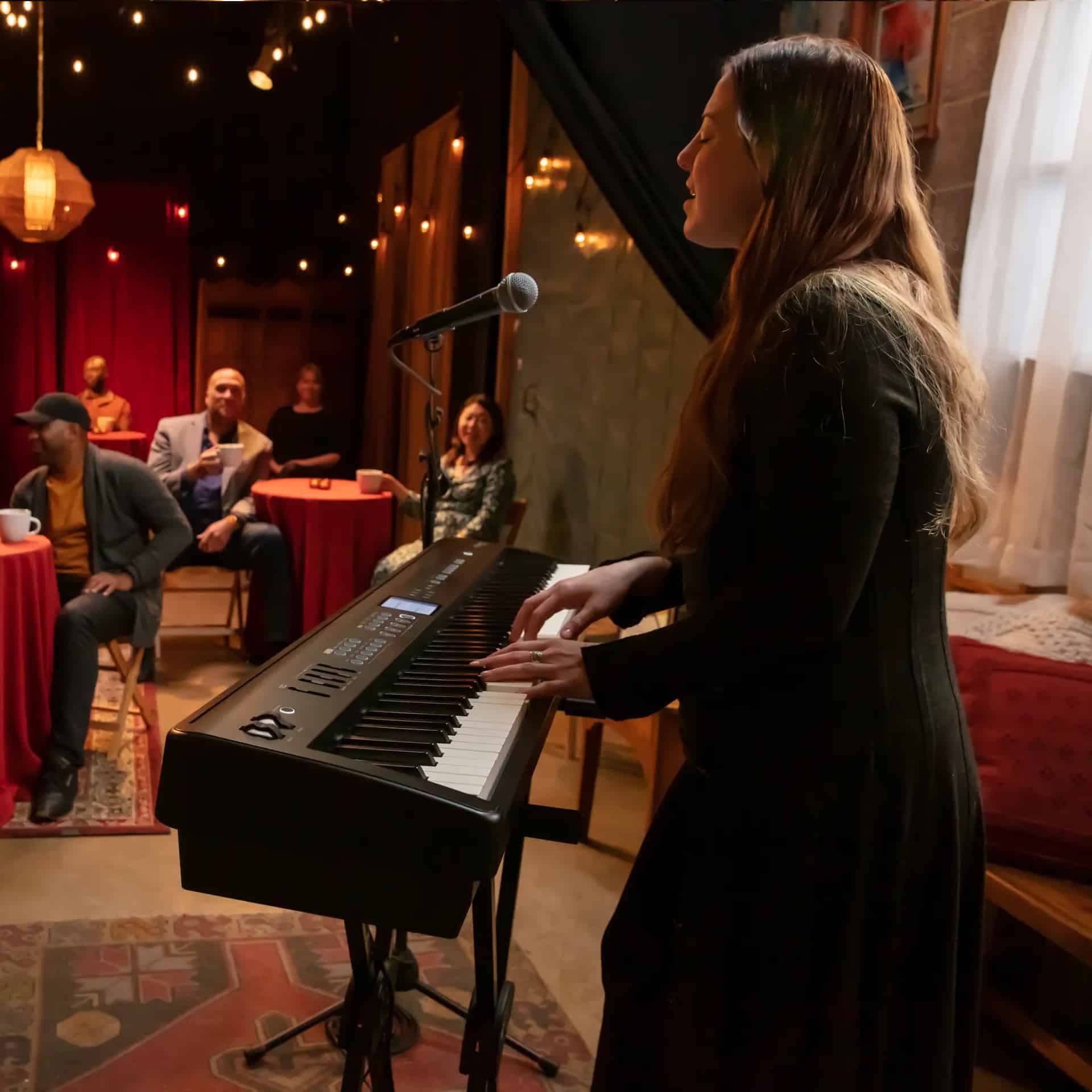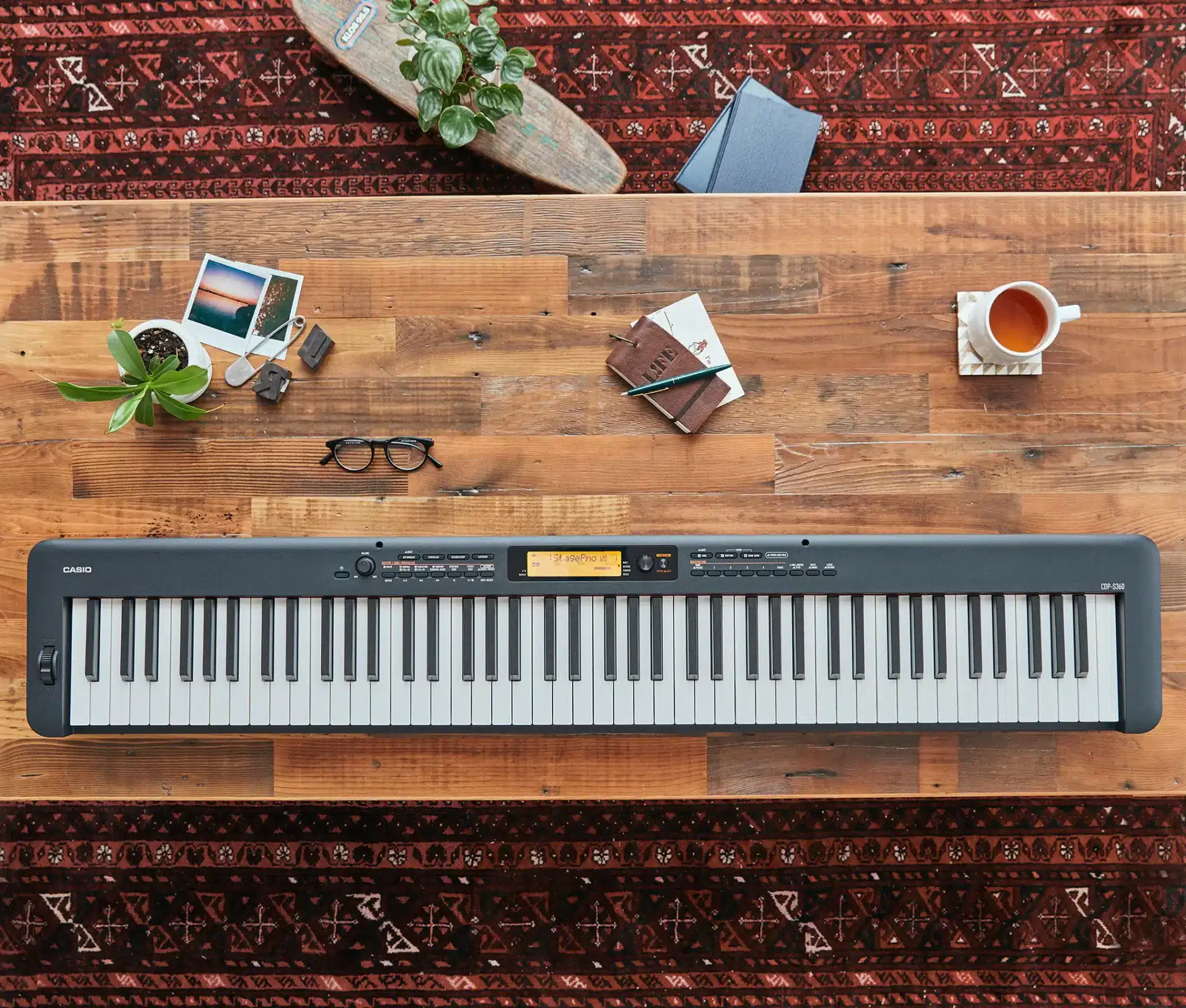 Another feature-packed digital piano – it's literally the lightest-weight and slimmest 88-key weighted keyboard on the market. You can put batteries in it and bring it anywhere.
It's just a few bucks more than the bare-bones Casio CDP-S160 and you get over 700 sounds with it, 200+ rhythms, a pitch-bend wheel and a bunch of fun stuff that the musician in your family can use to expand their musical horizons.
Why own a digital piano and an acoustic piano?
No doubt an acoustic piano is the gold standard for piano playing. However, we think there are reasons why many pianists choose to own both!
Versatility of Sound: Digital pianos unlock a world of musical exploration with a variety of instrument voices and tones. From classical grand piano sounds to contemporary synthesizers, the creative possibilities are endless.
Practice Convenience: Whether you're an early bird or a night owl, the headphones compatibility allows you to practice at any time without disturbing others. Some models even include interactive learning features, making practice both effective and engaging.
Recording and Playback Capability: Enhance your musical journey by recording, playing back, and sharing your compositions directly from your digital piano. It's like having a personal concert hall at your fingertips!
Compact Design: Perfect for smaller spaces or those on the move, digital pianos offer sleek and space-saving designs without compromising on sound quality. It's the modern solution for the mobile musician.
Adjustable Settings: Tailor the playing experience to your liking by adjusting things like tone and key sensitivity. Mimic different types of acoustic pianos or set it to match your personal touch, making your digital piano a true extension of yourself.
What is a digital piano?
A digital piano is an electronic piano that tries to sound and feel like an acoustic piano.
There are a wide range of digital pianos available, with differing kinds of actions and cabinets. You can get something that's just a full-size keyboard with a stand or get as realistic as possible with a digital grand piano!
It's important to note that keyboards aren't necessarily digital pianos. Some keyboards have fewer than 88 keys and piano-style actions. This means they aren't trying to replicate an acoustic piano, and they're instead usually better suited for gigging or music production.
Digitals don't require regular maintenance, and they have a lot of extra features that make playing more fun and accessible (ie. headphone use, recording, various tones, built-in metronome, etc).
For those reasons, they're very popular with beginners and pianists looking for a more versatile instrument.
Which digital piano is closest to a real piano?
If you're looking for a digital piano that feels and sounds closest to an acoustic piano (not a "real piano" — digital pianos are real pianos too), look for digitals with advanced sample rendering and a keystick action.
Some digital pianos and keyboards use modeling technology to synthesize a piano's tone. However, high-quality sound samples recorded from real acoustic pianos will better ensure a realistic piano sound.
Moreover, a keystick action is most like an acoustic piano's. In many cases, they are modified to require no maintenance so they won't be perfectly identical. But we think many high-end digital pianos feel respectably close!
A few examples of very realistic digital pianos include the Kawai NOVUS NV10S, Roland GP-9 and Yamaha AvantGrand N3X.
We're most partial to the Kawai NV10S since it uses samples from their Shigeru SK-EX Concert Grand Piano and a slightly modified version of the Millenniumm III action found in their popular GL-10 baby grand piano. 
What is the best digital piano for beginners?
There isn't a single digital piano that's best for beginners since it'll depend on your preferences and needs. Moreover, we don't think beginners should feel limited to entry-level instruments!
However, many beginners do ask about the best digital piano under $1,000. We have a few recommendations for this:
Casio Privia PX-S1100. Features Casio's Smart Scaled Hammer Action Keyboard; an array of instrument voices, rhythms, and accompaniments; and sleek controls and Bluetooth connectivity. The PX-S3100 provides versatility for creative exploration in addition to a smooth piano playing experience.
Kawai ES110. This portable digital piano features Kawai's Responsive Hammer Compact action, which provides an authentic piano touch. It also offers a variety of instrument sounds and useful features for beginners and more advanced players.
Roland FP-30X. An option that many beginners gravitate towards. It features Roland's SuperNATURAL Piano sound modeling engine and the PHA-4 Standard keyboard, a favorite for those looking for a realistic action that doesn't break the bank. The Roland Piano App is also a favorite since it doubles as a practice app in addition to controlling the instrument.
How long do digital pianos last?
With proper care and maintenance, digital pianos can last for a decade or more.
Unlike acoustic pianos, digital pianos do not have strings, hammers, or soundboards that undergo physical wear over time.
The issue with their longevity is that as technology advances, newer pianos with improved features will become available and antiquate older models. Even a 10-year-old digital can seem ancient to some, despite being perfectly functional.
In any case, regular cleaning, avoiding exposure to extreme temperatures and humidity, and using a dedicated keyboard cover can help prolong the lifespan of your digital piano. It's also a good practice to follow the manufacturer's guidelines for maintenance and care.
How to fix digital piano keys?
If you're experiencing issues with your digital piano keys, here are some steps you can take to troubleshoot and potentially fix the problem:
1. Check for Debris: Sometimes, dirt, dust, or debris can get lodged under the keys, causing them to stick or not respond properly. Gently clean the area around the keys using compressed air or a small soft brush.
2. Power Cycle: Turn off the digital piano and unplug it from the power source. Wait a minute or two, then plug it back in and turn it on. This can sometimes help resolve minor glitches.
3. Factory Reset: Check your piano's manual for instructions on performing a factory reset. This can often resolve software-related issues affecting the keys' responsiveness.
4. Professional Repair: If the keys are physically damaged, sticking, or not responding after trying the above steps, it might be best to consult a professional technician. Attempting to repair keys yourself usually causes more harm.
Remember to refer to your digital piano's manual for specific troubleshooting steps and the manufacturer's contact information for customer support!
Call our technician Paul if you need digital piano repair in the Chicagoland area!
Why Buy a Digital Piano at Family Piano?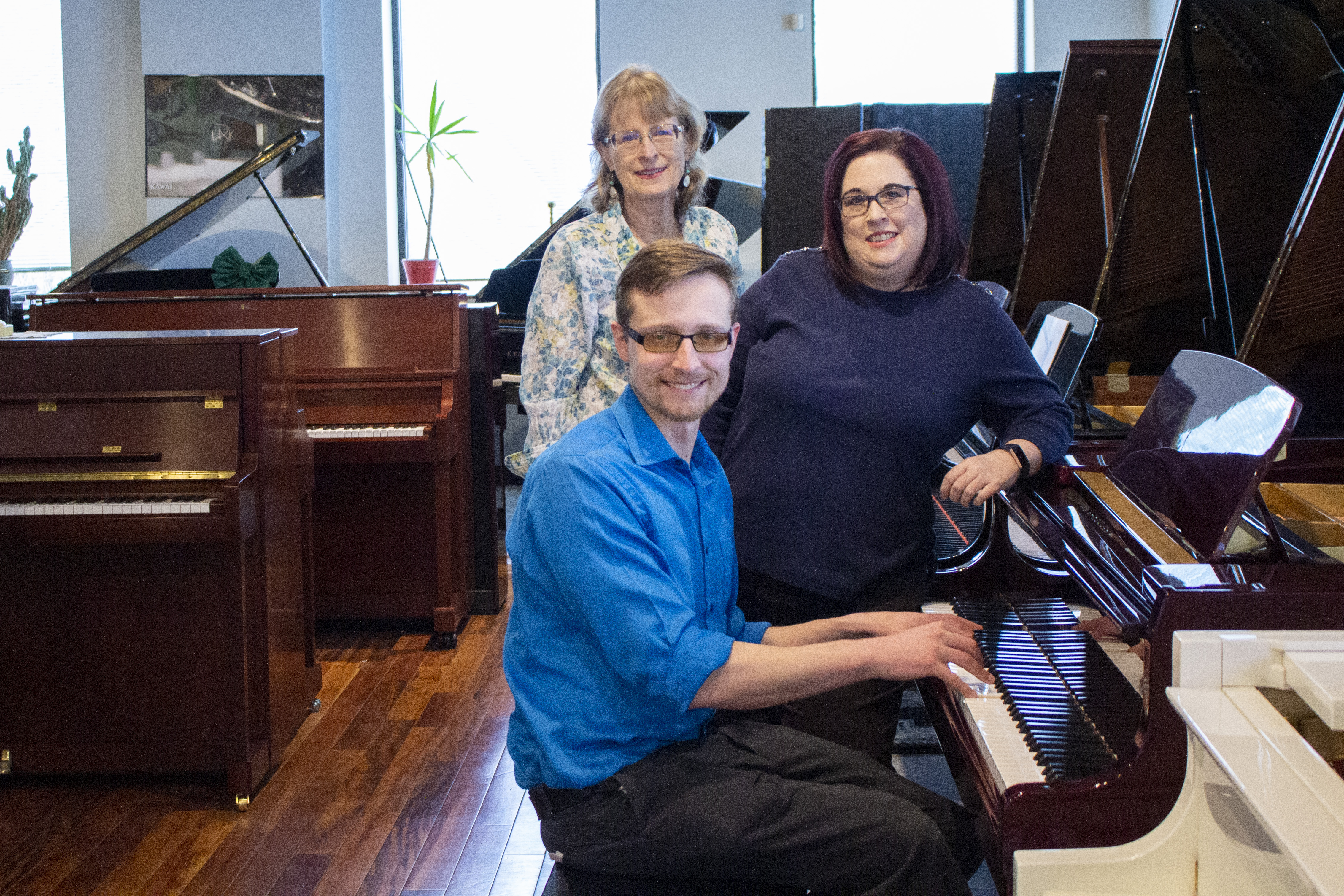 Founder and head tech Alice Alviani (upper left) with vice president Linda Charboneau (right) and president Brendan Alviani (at piano).
Try Many Before Picking One
We all love online shopping, but you should definitely play a piano before buying it. We stock all the best-selling models from Kawai, Casio and Roland so you can compare them for yourself!
Stress-Free Shopping
Buying a piano should be fun! So we never get pushy or use sales tactics to "close deals." Instead, we focus on education. Even if only curious about piano, we'd love to give you a tour and let you play as much as you want!
Worry-Free Ownership
Taking care of your piano can be daunting. That's why we include a warranty with every purchase, and have a digital technician on-staff. And if you ever have any piano-related questions, advice is just a call away.
Lowest Prices Guaranteed
Every piano in our showroom is clearly labeled with the lowest prices you'll find in the Chicago area. And if you do find a better price, we'll match it – and still give you our unbeatable service and guarantees.
Experts You Can Rely On
Since opening in 2006, we've become the best-reviewed piano stores in the area. Our staff is full of piano lovers, and we have the largest team of techs in the Midwest. 

I needed an instrument that was user friendly for beginners, but would be able to support my growth as I advanced in my training.
I go to school outside of Illinois, but I made the long journey to Waukegan, Illinois, because I heard great things about their customer service.
[They] explained everything in great detail and gave me all the essential information so that I could make an informed decision.
Ultimately, I decided to purchase a Kawai Digital Piano, and I could not be happier.

After researching digital pianos for quite a while, I eventually decided on the one I wanted but had a hard time finding it available anywhere. I finally found it online in the right color at Family Piano Co.
They were very nice and helpful on the phone, and we arranged to have the piano shipped all the way to Utah from their store in Illinois. It arrived in perfect condition!

I was in the market for a digital piano and had a great experience at Family Piano in Waukegan.
Brendan went above and beyond what I expected in accommodating an appointment, explaining each model/features, and offering several finance options so that the purchase could fit my budget.
He even offered to deliver it straight to my home and set it up which I was extremely thankful for.
Use this form to send a message directly to our inbox. You can ask for an appointment or anything else!
You can also chat with us, call us at (847) 775-1988 or email us at info@familypiano.com.
Our stores in the Golf Mill Mall and in Downtown Waukegan are both open every day from 12pm to 6pm.