Authorized Casio Piano Dealer
Casios Make Learning Feel Like Playing
Casio digital pianos have many of the same features that make their keyboards so popular and a more realistic piano action.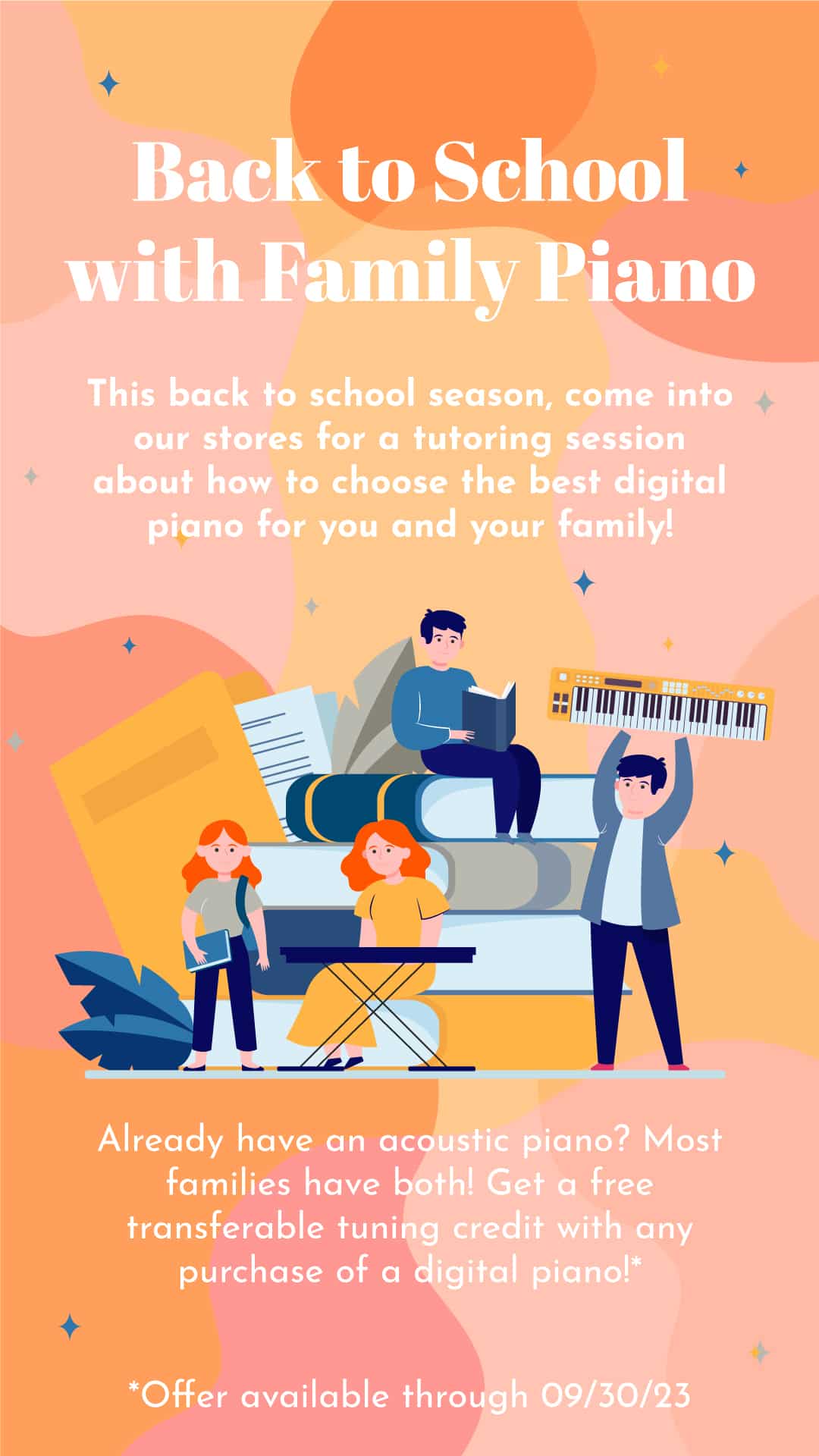 Free Tuning with Any Digital Piano?!
Probably about half of our customers have both an acoustic AND a digital piano.
So for all of the acoustic piano owners out there who are interested in finally having all of the benefits of a digital piano, we have a special promotion just for you – a credit for a free piano tuning with the purchase of any digital piano over $499!
Digital pianos don't need to be tuned, but hey, we're here for all of your piano needs.
And if you don't have an acoustic piano? You can gift your tuning credit to a friend or family member and look mighty generous.
Tuning needs to be redeemed by Dec 31, 2024. May not be combined with other offers. We may need to verify redemption with the original purchaser, if the credit is gifted. Piano needs to be located in our service territory – basically north side of Chicago up to Racine and about as far west as Barrington-ish area.
Casio Pianos: Inspired & Inspiring
Casiotone Keyboards
Designed for exploring music, Casiotones offer a variety of sounds, rhythms, and learning features inside a compact keyboard.
Privia Digital Pianos
Want more authentic piano playing? Privia digital pianos feature feature weighted-and-graded keys and high-quality piano tones.
Celviano Grand Hybrids
Casio's most advanced digital pianos. They mimic acoustic piano playing as closely as possible — even sampling concert grands.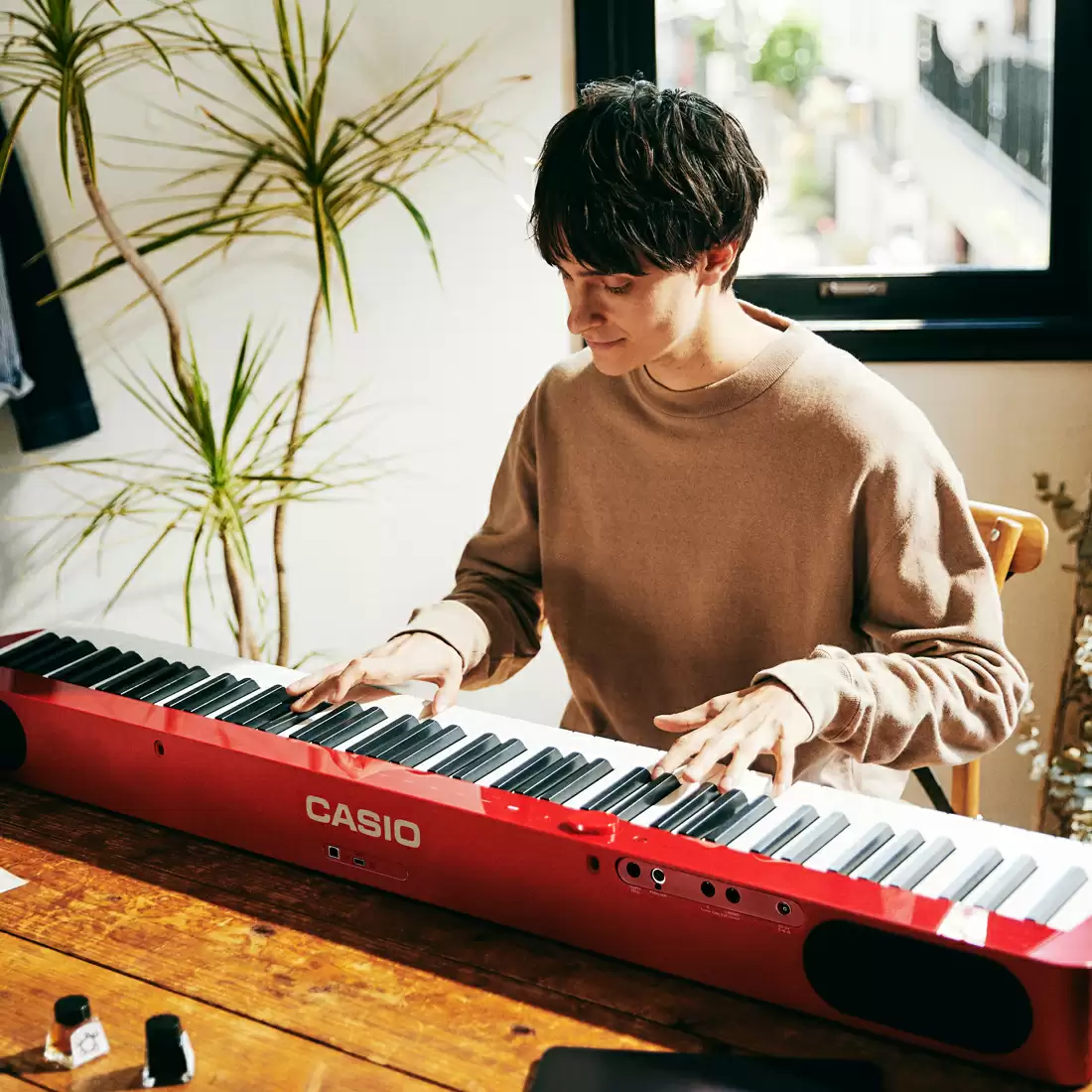 On feature-rich models, you can choose from hundreds of different sounds and rhythms to keep practice exciting. Select a favorite tone or two from the 100s available, turn a note into a chord to easily play progressions, turn on a backing rhythm, and enjoy making music immediately!
Some of the Best Digitals Under $1,000
With all the features Casio offers, including a respectable sound system and their weighted-and-graded action, their digital pianos shine in the entry-level.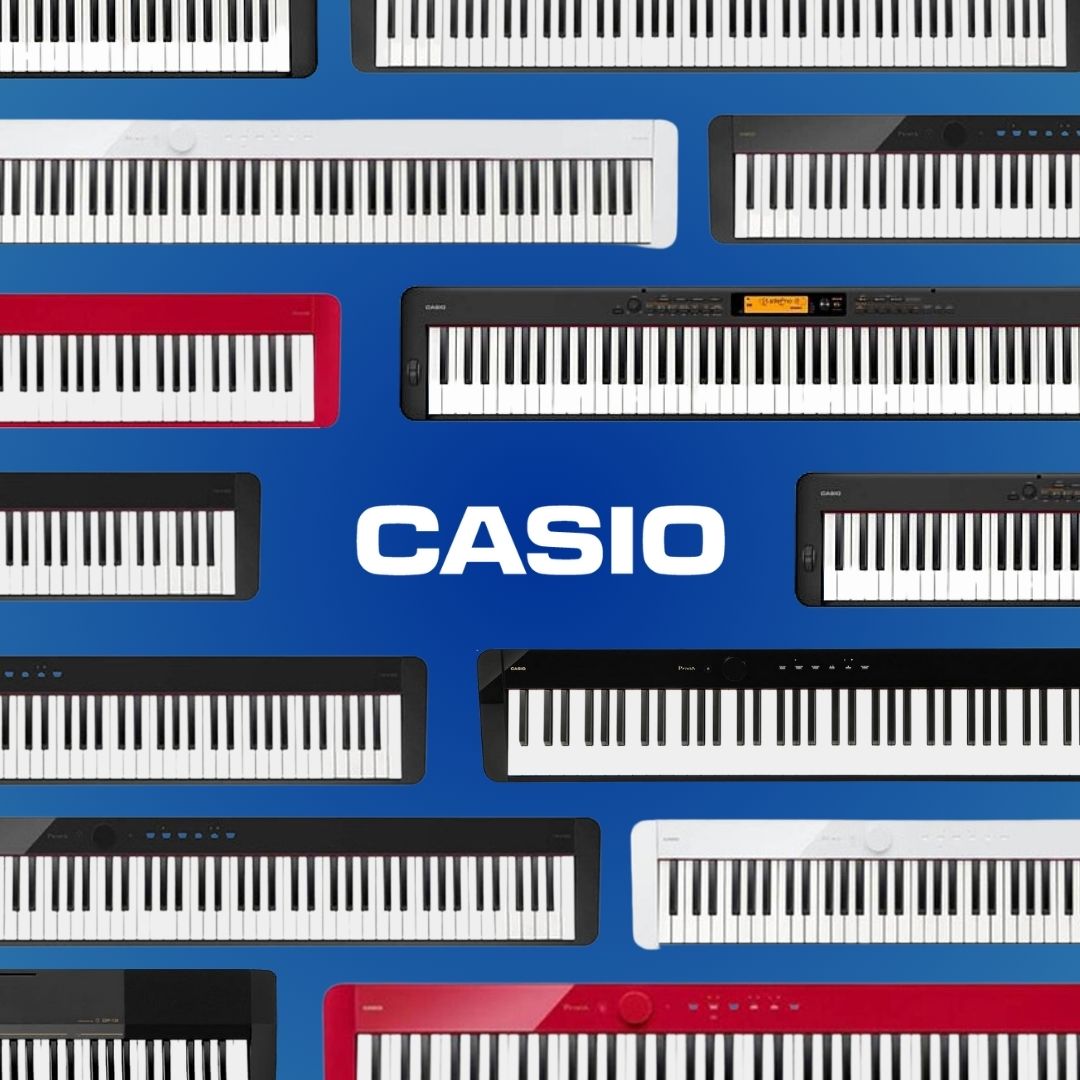 A parts processor from an early age, Tadao Kashio set up his own business in Tokyo in 1946: Kashio Seisakujo (Kasho Factory in English).
Then after creating the the world's first compact all-electric calculator, the 14-A, Tadao and his brothers created Casio Computers Ltd in 1957, Tadao becoming the president three years later.
This was the first watch released by Casio, and it was the first to have a calendar that accounted for each month having different days — and even leap years!
Casio then continued making many more multi-functional digital watches, integrating much of the tech they developed making calculators.
Toshio Kashio developed a sound engine that recreated 29 sounds such as piano, organ, harp and trumpet. 
When Casio put it inside their Casiotone 201, it became the first time anyone could recreate the sounds of other instruments with a keyboard.
This was also the beginning for making musical instruments at Casio.
Throughout the late 20th century, Casio kept on inventing new technologies for keyboards such as easy sampling and light-up keys.
They had also released their Celviano series: the high-end of their keyboards and a few bulky digital pianos.
Launching the new Privia "Private Piano" series, Casio's PX-100 aimed at replicating an acoustic piano inside a compact and affordable digital for the first time.
As far as keyboards and digital pianos go, few brands today are as well-known as Casio. 
They've continued to try to make it easy for anyone to enjoy making music.
They've also continued to push the boundary for what a digital piano can be, as seen in their latest Privia digitals which boast the slimmest and most-modern designs in the industry. 
How much is a Casio piano or keyboard?
Casio offers a wide range of options to suit different budgets and needs! So the cost of a Casio piano or keyboard will vary based on the model, features, and size. 
Casio Digital Pianos: For those looking for a more authentic piano experience, Casio digital pianos range from around $530 to over $4,500. These models often come with weighted keys, more realistic piano sounds, and additional features.
Casio Keyboards: Casio keyboards, often designed for budding music makers, can go for around $70 to about $500. These keyboards are compact and come with various built-in sounds and learning features.
Are Casio pianos good?
Yes, Casio digital pianos are good pianos, known for providing good quality and value.
Casio digital pianos often come with a variety of instrument sounds, built-in learning tools, and realistic touch response.
Casio has made significant advancements in digital piano technology over the years, offering instruments that are reliable, affordable, and feature-rich.
While they might not be on the same level as high-end acoustic pianos, they offer a great starting point for individuals who are new to playing the piano.
For beginners, families, and those looking for an affordable option, Casio pianos can be an excellent choice.
Discover which is best for you: Casio Keyboard and Piano Buyer's Guide
How to fix a Casio piano or keyboard?
Fixing a Casio piano or keyboard will depend on the specific issue you're facing. Here are some general steps you can take to troubleshoot and potentially fix common problems:
1. Check Cables: If your instrument isn't powering on, ensure the keyboard is properly connected and powered on. Make sure all cables are plugged in securely. 
2. Restart or Reset: For software issues, try turning the keyboard off, unplugging it, waiting a minute, and then plugging it back in and turning it on. If the keyboard still isn't not responding properly, consider performing a factory reset as per the manual's instructions.
3. Check the Manual: Refer to the user manual that came with your Casio piano or keyboard. It might have troubleshooting tips and solutions for other common issues.
4. Contact Support for Repair: Most times, it is best to consult a professional. So if the problem persists, reach out to Casio's customer support or an authorized service center. They can provide guidance or arrange for repairs if needed.
Need some help? Family Piano Co is authorized for Casio repair near Chicago! 
How many keys does a Casio keyboard have?
Casio keyboards typically come in a range of sizes, each with a different number of keys. The most common configurations are:
61 Keys: Many entry-level Casio keyboards have 61 keys. These keyboards are very compact and great for keyboardists focused on music making on the go.
76 Keys: Some Casio keyboards feature 76 keys. These provide a bit more range and versatility compared to 61-key models.
88 Keys: Casio also offers digital pianos with 88 keys, which is the standard number of keys on an acoustic piano. These keyboards typically aim to replicate the feel and range of a real piano.
Can you use a Casio keyboard as a MIDI controller?
Yes, many Casio keyboards can be used as MIDI controllers. MIDI capabilities and connections will vary depending on the specific Casio keyboard model though, and some may not offer it as a feature.
Casio keyboards equipped with MIDI connectivity can send MIDI data, such as note information, velocity, and control messages, to external devices. This means you can use your Casio keyboard to control virtual instruments, recording software, and other MIDI-compatible equipment on your computer.
For more information, refer to the keyboard's manual for instructions on how to use it as a MIDI controller.
Why Buy a Casio Piano at Family Piano?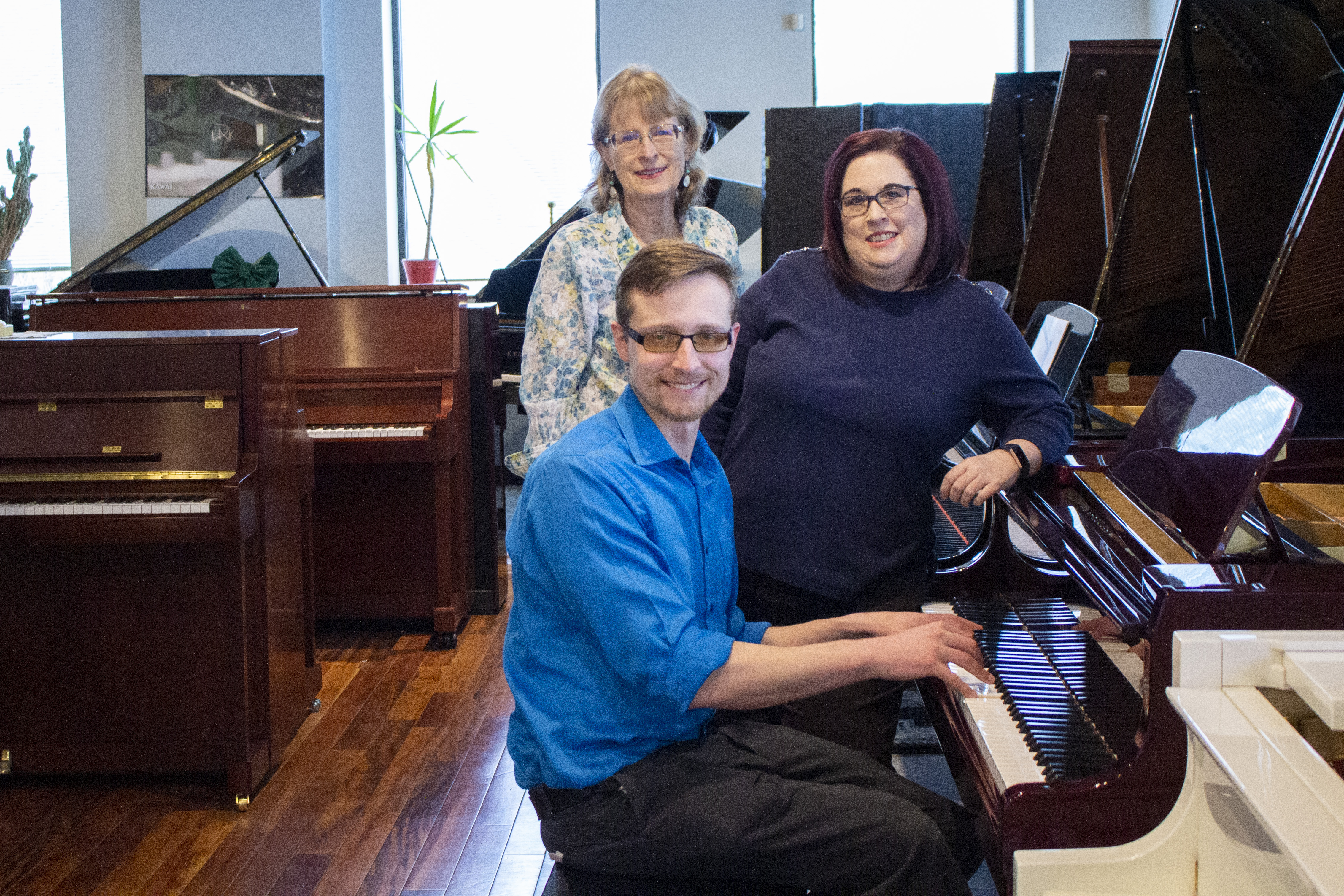 Founder and head tech Alice Alviani (upper left) with vice president Linda Charboneau (right) and president Brendan Alviani (at piano).
Try Many Before Picking One
We all love online shopping, but you should definitely play a piano before buying it. We stock all the best-selling models from Kawai, Casio and Roland so you can compare them for yourself!
Stress-Free Shopping
Buying a piano should be fun! So we never get pushy or use sales tactics to "close deals." Instead, we focus on education. Even if only curious about piano, we'd love to give you a tour and let you play as much as you want!
Worry-Free Ownership
Taking care of your piano can be daunting. That's why we include a warranty with every purchase, and have a digital technician on-staff. And if you ever have any piano-related questions, advice is just a call away.
Lowest Prices Guaranteed
Every piano in our showroom is clearly labeled with the lowest prices you'll find in the Chicago area. And if you do find a better price, we'll match it – and still give you our unbeatable service and guarantees.
Experts You Can Rely On
Since opening in 2006, we've become the best-reviewed piano stores in the area. Our staff is full of piano lovers, and we have the largest team of techs in the Midwest. 

I bought a digital piano here and got a great price and even better service!! They even helped load it into the truck no charge!! Thank you!!

They worked with me personally to get me just what I needed at the best price. I highly recommend Family Piano Co – love when I can buy from small business rather than Amazon!
Use this form to send a message directly to our inbox. You can ask for an appointment or anything else!
You can also chat with us, call us at (847) 775-1988 or email us at info@familypiano.com.
Our stores in the Golf Mill Mall and in Downtown Waukegan are both open every day from 12pm to 6pm.