Looking at pianos for sale? No matter what kind you're looking for, we're sure we have the perfect one for your home.
FAQ About Pianos for Sale 
Why Buy Your Piano at Family Piano?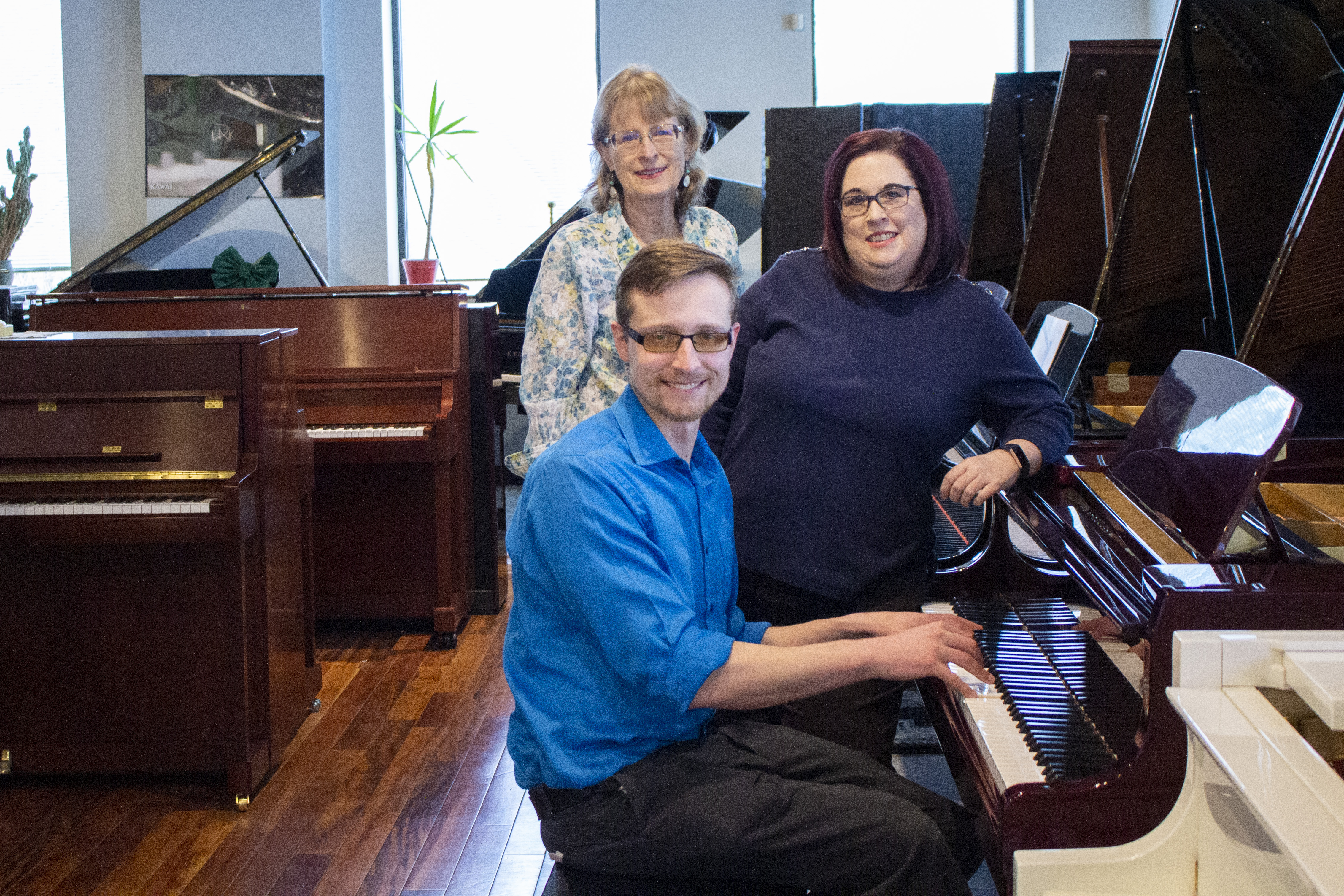 Founder and head tech Alice Alviani (upper left) with vice president Linda Charboneau (right) and president Brendan Alviani (at piano).
Pianos You Can Trust
Every piano in our showroom is in the best condition it can be and backed by a warranty. Our piano technicians tune and service each piano when it arrives, while it's here, and before it's delivered to your home.
Stress-Free Shopping
Buying a piano should be fun! So we never get pushy or use sales tactics to "close deals." Instead, we focus on education. Even if only curious about piano, we'd love to give you a tour and let you play as much as you want!
Worry-Free Ownership
Taking care of your piano can be daunting. That's why we include discounts on tunings and a warranty with every purchase. And if you ever have any piano-related questions, personalized advice is just a call away.
Lowest Prices Guaranteed
Every piano in our showroom is clearly labeled with the lowest prices you'll find in the Chicago area. And if you do find a better price, we'll match it – and still give you our unbeatable service and guarantees.
Experts You Can Rely On
Since opening in 2006, we've become the best-reviewed piano stores in the area. Our staff is full of piano lovers, and we have the largest team of techs in the Midwest. 

We were looking for a grand piano and didn't know where to start.
This can be an enormous task, almost like car shopping, but they were there to guide us along the way.
I can't say enough about the outstanding customer service and would recommend this store to anyone buying a piano.
They made the experience fun!!!

Impeccable customer service and a respectable collection of new and used pianos for sale spanning a wide range of prices.
Definitely worth a visit, whether you're a seasoned musician or just starting out.

Purchasing the piano here was, quite simply, a joy. They are that rare find: delightful, honest, and as good as their word. Got to love family businesses!!!!
Use this form to send a message directly to our inbox. You can ask for an appointment or anything else!
You can also chat with us, call us at (847) 775-1988 or email us at info@familypiano.com.
Our stores in the Golf Mill Mall and in Downtown Waukegan are both open every day from 12pm to 6pm.