The Gold Standard for Pianos
Grand pianos have the best sound and feel of any other piano type, and they add instant elegance to any room.
How Does a Grand Piano Work?
A grand is a product of tradition and sincere craftsmanship, requiring many small handmade parts and construction.
Its action is a technology over 300 years old that still hasn't been improved upon much simply because it works so consistently. 
There's no question that the highest-quality instruments built on Earth are more times than not grand pianos.
Peek inside this short two-part video that explains simply how the modern-day instrument works.
For more information, contact us! We can pull out a grand piano's action and show you its magic in detail.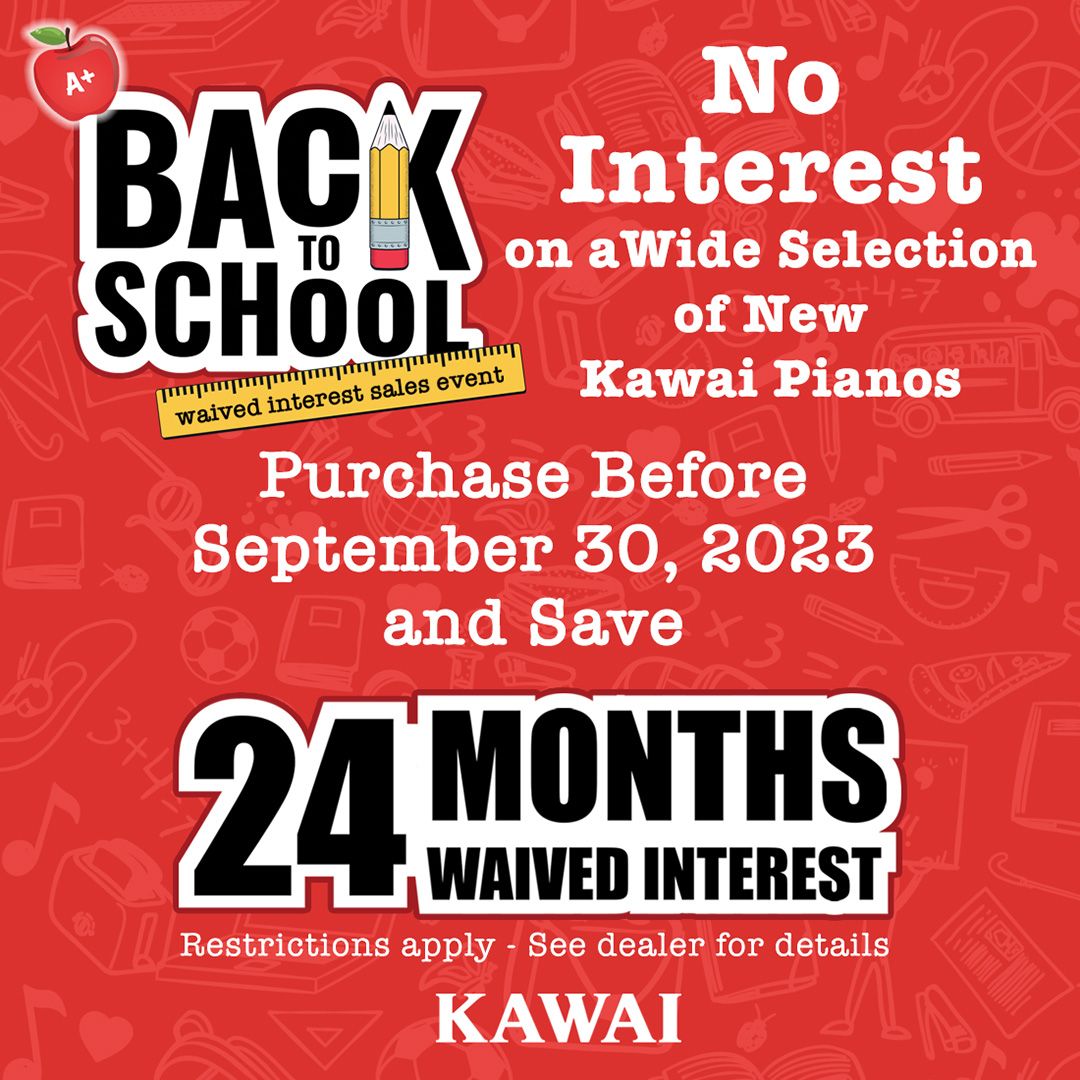 0% for 24 Months on All New Kawai Pianos
From now until September 30th, enjoy 0% financing for 24mo when you finance any new in-stock Kawai piano.
As the summer winds down and the ring of school bells approaches, there's no better time to explore the musical opportunities at our store!
Program offered by Allegro Credit. Approval required.
The grand piano has remained at the center of Western music even now — over 300 years after its initial creation.
The grand is the original form of the piano, and the gold standard for all other pianos as well. It offers the best in terms of music making and presence.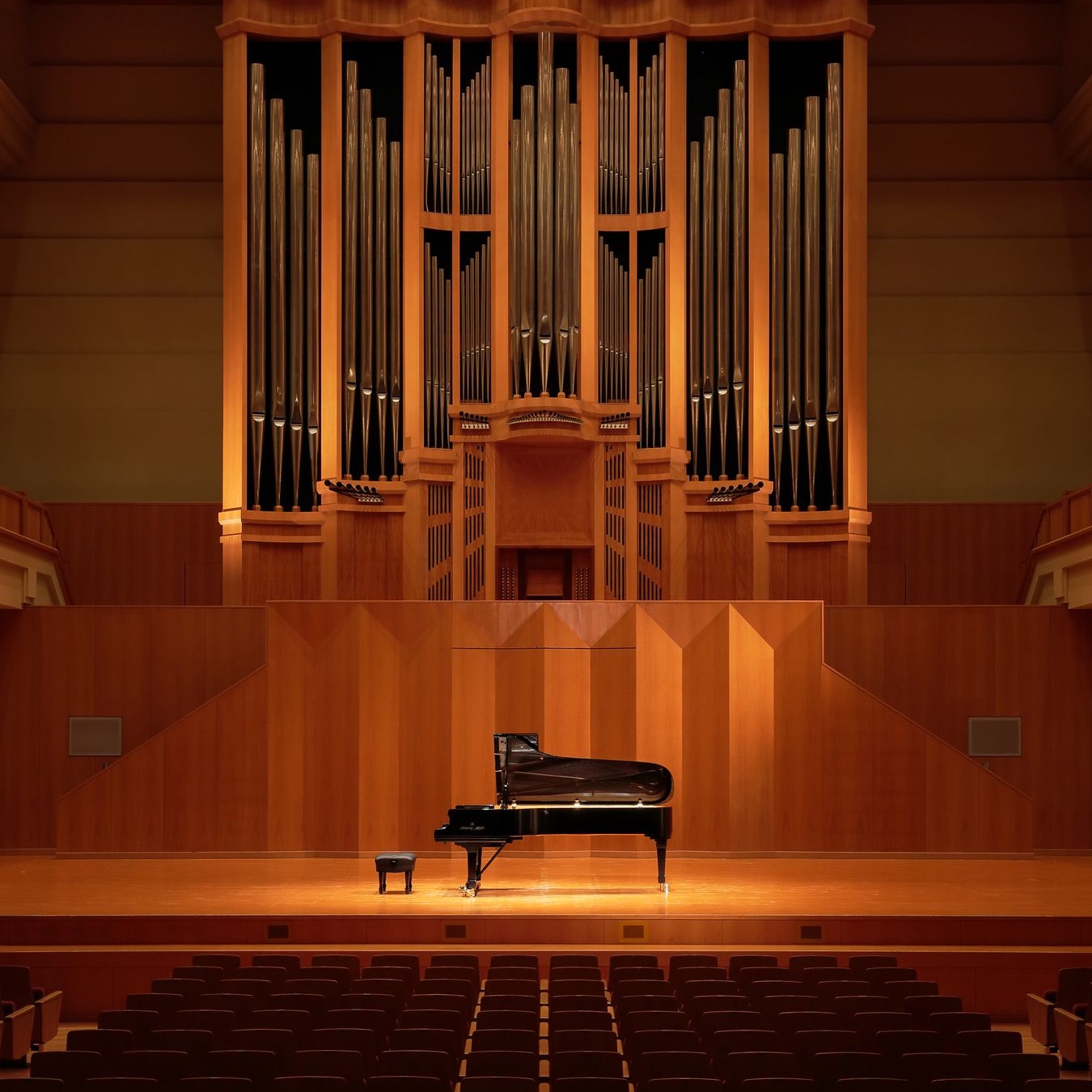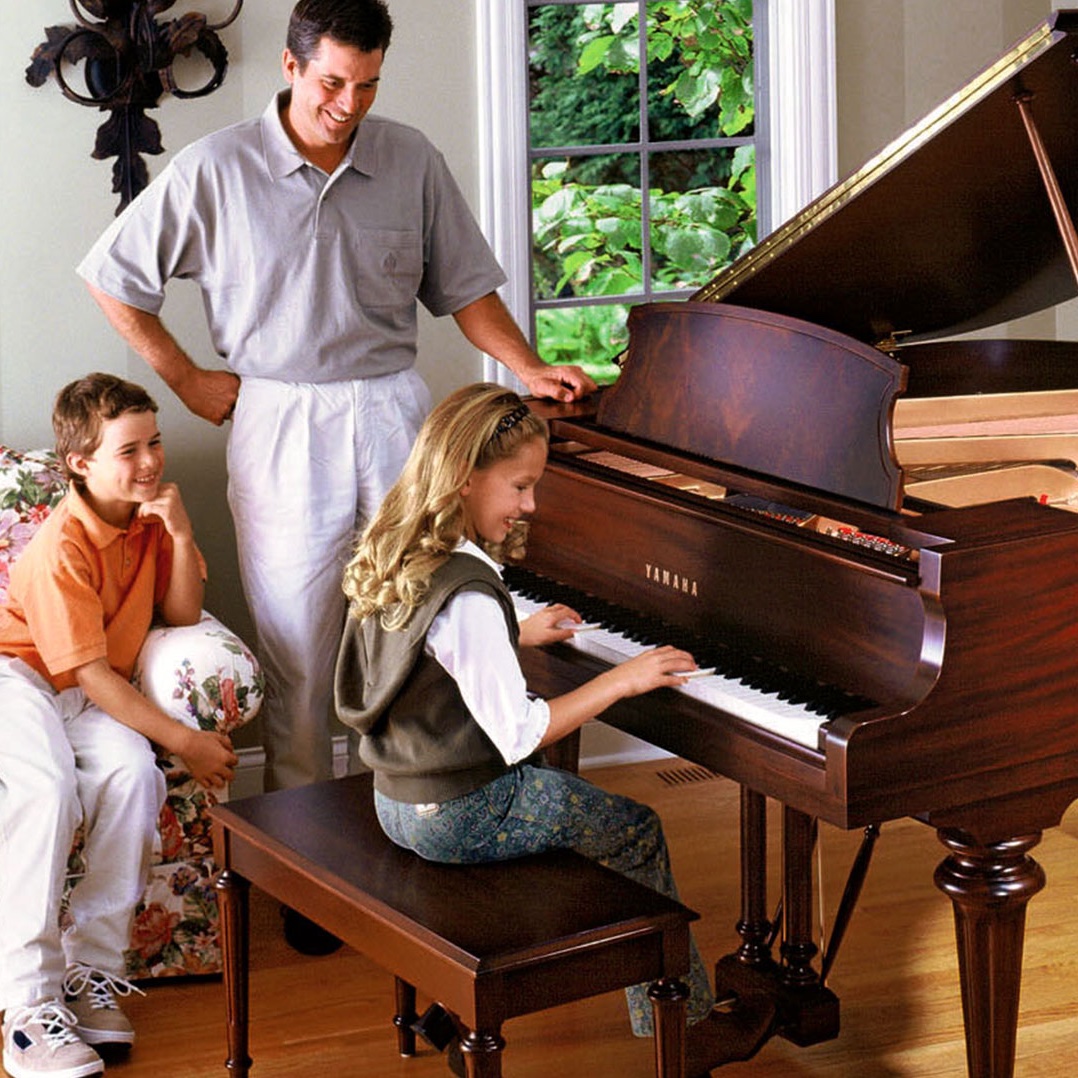 Whether a beginner or an expert, a grand is the best choice when you want to focus less on playing notes and more on playing music. 
It's easier to play slow and expressive or fast and technical, it has a full rich tone, and you feel like a pianist when you sit at one.
What does my purchase include?
Every grand piano purchase will include:
3-5 year FPC warranty or 10 year manufacturer warranty,
100% trade-up policy for 6-20 years,
Full-day of refurbishing work and multiple tunings to meet our standards,
$10 discounts on future tunings from Family Piano,
And a matching bench.
Your piano is tuned and guaranteed ready-to-play as soon as it arrives in your home!
How much is a grand piano?
In general, our prices start at around $3,000 for a refurbished grand piano and $12,000 for a new grand piano. That said, the exact cost of a grand piano will vary widely depending on the brand, size, and condition of the instrument.
While it's true that the cost of a grand piano can be a significant investment, it's important to remember that a well-maintained grand piano can last for decades or even a century or more.
Family Piano's prices are very competitive within the Chicagoland area. We never add hidden fees or any other additional costs that aren't disclosed from the beginning. In 90% of deals, the invoice is made of:
Piano's sticker price which we visibly post and keep low year-round.
Professional delivery which starts at $399 based on a standard local move within the Chicagoland area.
Sales tax which is one of the only certain things in life.
We keep our costs low and honest. In fact, we even offer an additional 3% check discount on all piano purchases — we can either pay a processing fee or pass the savings onto you.
Related article: Why Are Pianos So Expensive?
Related article: How Much Does a Piano Cost?
What's the difference between baby grands and grand pianos?
Baby grands and grand pianos are both types of acoustic pianos. The difference between the two is their size.
Full-size grand pianos are the larger of the two, typically measuring between 5.5 and 9 feet long. They have a longer soundboard and string length, which allows for a richer, more resonant tone. Grand pianos also have the most responsive action you can find in a piano, which makes them easier and more enjoyable to play for experienced pianists. Grand pianos are often found in concert halls, music schools, and the homes of serious musicians.
Baby grands are smaller grand pianos, typically measuring between 4.5 and 5.5 feet long. They have a shorter soundboard and string length, which can result in a less resonant tone compared to a grand piano. Baby grands also have a less responsive action in comparison, but one that's certainly suitable for most players. Baby grands are often found in homes, recording studios, and smaller performance venues.
Ultimately, both grand pianos and baby grands offer a rich and rewarding playing experience for pianists of all levels. When considering which one to purchase, it's important to take into account factors such as your budget, available space, playing ability, and the type of music you plan to play.
Related article: Baby Grand vs Grand Piano: What's the Difference?
Related article: What is a Grand Piano? Why Buy One?

Is it better to buy a new or refurbished grand piano?
Whether you buy a new or refurbished grand piano will depend on things such as your budget, personal preferences, and musical goals.
A new grand piano offers the benefit of being in pristine condition with no wear and it comes with a manufacturer's warranty. You'll have the satisfaction of owning a brand new instrument and can even order a piano with specific features or finishes. However, new pianos are typically much more expensive than refurbished ones.
A refurbished piano can offer a great instrument at a great value, generally being significantly cheaper than new pianos, yet still offering a similar quality, appearance and performance. Refurbished pianos are pre-owned instruments that have been restored from used condition. Family Piano's refurbishing process includes replacing worn-out parts, repairing any significant damage and tuning the piano several times.
In any case, whenever buying a piano, it's important to buy from a reputable dealer and have the instrument ensure checked by a reputable technician.
At Family Piano, you get the benefit of both! We take the time to listen to our customers' needs and work with them to find the right piano for their home. We also have a larget team of technicians that offer piano tuning and a range of piano repair services to help ensure that your piano stays in great shape for years to come.
Why Buy a Grand Piano at Family Piano?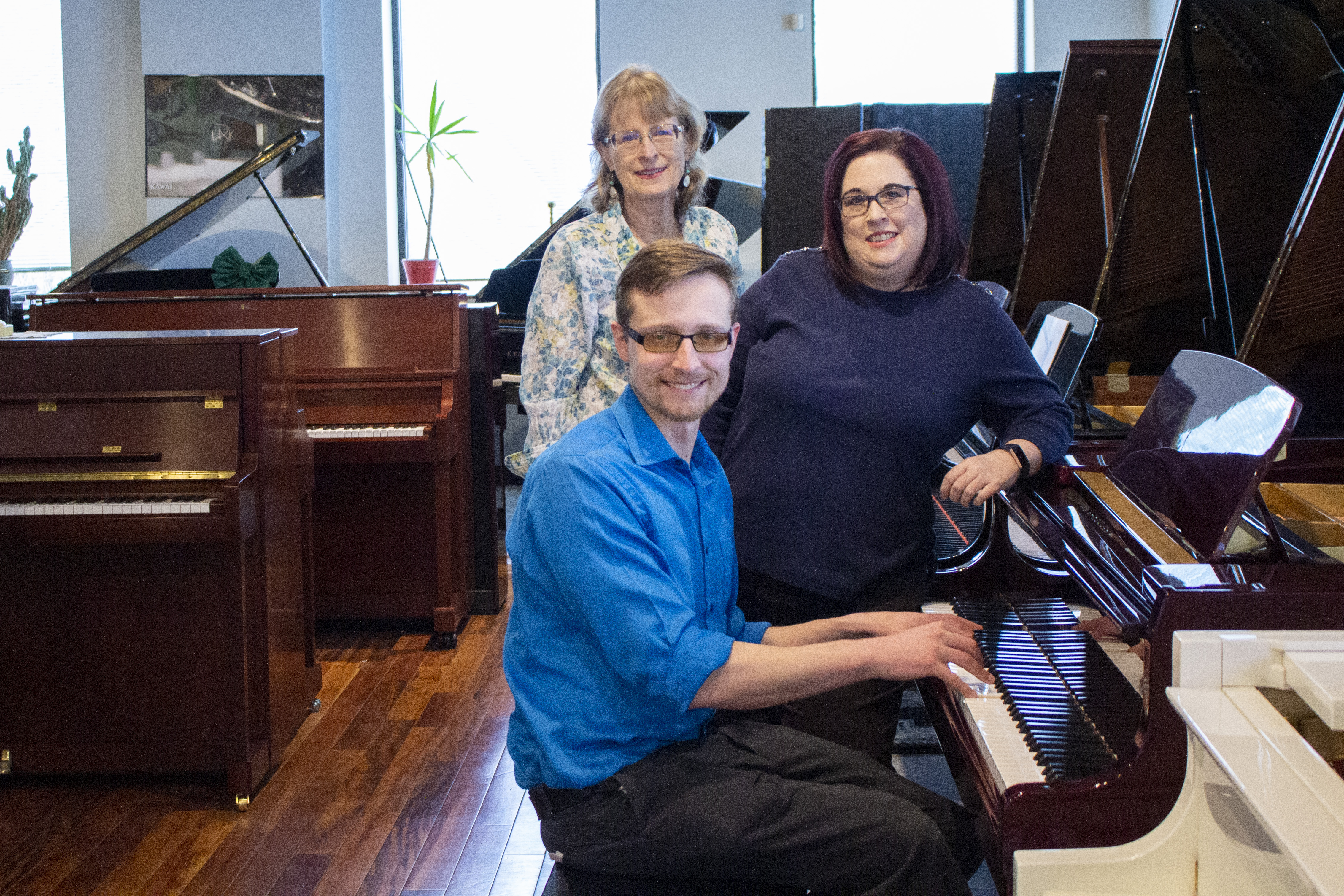 Founder and head tech Alice Alviani (upper left) with vice president Linda Charboneau (right) and president Brendan Alviani (at piano).
Pianos You Can Trust
Every piano in our showroom is in the best condition it can be and backed by a warranty. Our piano technicians tune and service each piano when it arrives, while it's here, and before it's delivered to your home.
Stress-Free Shopping
Buying a piano should be fun! So we never get pushy or use sales tactics to "close deals." Instead, we focus on education. Even if only curious about piano, we'd love to give you a tour and let you play as much as you want!
Worry-Free Ownership
Taking care of your piano can be daunting. That's why we include a warranty with every purchase, and have a digital technician on-staff. And if you ever have any piano-related questions, advice is just a call away.
Lowest Prices Guaranteed
Every piano in our showroom is clearly labeled with the lowest prices you'll find in the Chicago area. And if you do find a better price, we'll match it – and still give you our unbeatable service and guarantees.
Experts You Can Rely On
Since opening in 2006, we've become the best-reviewed piano stores in the area. Our staff is full of piano lovers, and we have the largest team of techs in the Midwest. 

We were looking for a grand piano and didn't know where to start. . . . This can be an enormous task, almost like car shopping. . . .
I can't say enough about the outstanding customer service and would recommend this store to anyone buying a piano. They made the experience fun!!!

I was looking for a used grand piano and got to try more than 10 different ones. They are the expert for Kawai pianos but they also carry different brands of used grand pianos.
. . .After it's shipped to our house, we found a couple of notes were off and Alice came over to fix for us and make sure everything works as it should be.
The overall buying experience is GREAT and I would recommend to others who is looking for a piano in the Chicagoland.
Use this form to send a message directly to our inbox. You can ask for an appointment or anything else!
You can also chat with us, call us at (847) 775-1988 or email us at info@familypiano.com.
Our stores in the Golf Mill Mall and in Downtown Waukegan are both open every day from 12pm to 6pm.