Find Your Dream Piano
Try out a variety of pianos so you can decide which is best for you! No pressure whatsoever!
Come visit us at either of our two locations. Both stores are open every day from 12pm – 6pm.
267 Golf Mill Center, Niles, IL 60714
114 South Genesee St, Waukegan IL 60085
Making Music Matters
Pianos should be accessible to everyone. And buying and owning one should be easy.
No matter what kind of piano you're looking for or what kind of piano repair you need, Family Piano is your one-stop piano shop in Chicagoland.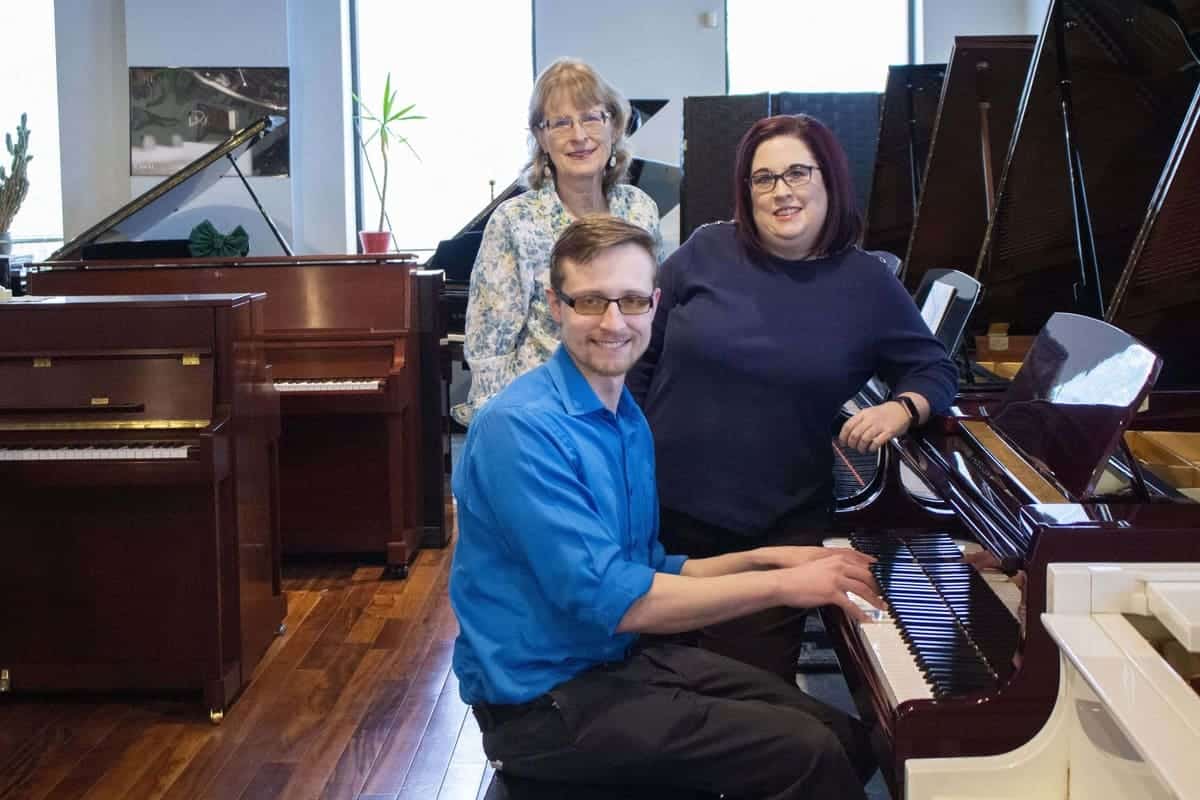 President and lead technician Alice Alviani (upper left) with VPs Linda Charboneau (right) and Brendan Alviani (at piano).
Technician-Owned & Operated
Every piano in our showroom is ready for you to play. We have the largest team of technicians in the Chicagoland area, and they tune and service each piano when it arrives, while it's here, and before it's delivered to your home. Affordable and reliable service, no matter what you need.
Educational Buying Process
Buying a piano shouldn't be hard or stressful. So we never get pushy or use sales tactics to "close deals." Instead, we focus on education. Even if only curious about piano, we'd love to give you a tour and let you play as much as you want!
Lowest Prices Guaranteed
Every piano in our showroom is clearly labeled with the lowest prices you'll find in the Chicagoland area. And if you do find a better price, we'll match it – and still give you our unbeatable service and guarantees.
Our Genuine Support — Forever!
Taking care of your piano and learning to play can be daunting. That's why we include a free tuning, warranty, and free admission to our group class with every purchase. If you ever have any piano-related questions, you can call us.
Established for 15+ Years
Since opening in 2006, we've become one of the best-reviewed piano stores in the area. We're genuine members of the local music community too – so we can connect you to the best instruments and resources around.
Years of Combined Technician Experience
As well as selling pianos, we also provide services to keep your piano sounding its best for years to come!
Our experienced tuner will adjust the tension for all 200+ strings so that each is precisely the correct pitch. We use a combination of tuning-by-ear & specialized technology. For a piano that's played by a discerning pianist, tunings should be scheduled at 6-month intervals. For most players, tunings should be scheduled at least annually.
Whether you're having trouble turning your instrument on or want to fix a worn-out cabinet, Family Piano has your digital piano repair needs covered! Our certified Electronics Technician, Paul Durand, can give you the expert help you need. He currently only services the Lake County area although he is happy to assist however he can.
Our experienced staff spends significant time going through each piano, to make it sound its best, feel its best, and look its best. We also guarantee our work with a minimum of a three-year warranty. We try to stock primarily newer pianos, built in the last 10-30 years, but we do have some older pianos available as well.
You might be surprised to learn it's a challenge figuring out how to get rid of a piano. While it may seem like everyone would want a piano, that isn't always the case. And it doesn't help that there are many available for free, or that it's hard to convey quality. To...
Get Our Weekly Newsletter
Subscribe to our newsletter to be the first to know about our blog posts and specials!
#1 Rated Piano Store in Chicagoland
Customers have given us the most 5-Star Reviews of any piano retailer in the greater Chicagoland area!
Use this form to send a message directly to our inbox. You can ask for an appointment — or anything else!
You can also call us at (847) 775-1988 and email us at info@familypiano.com.
We have locations in Golf Mill Mall and Downtown Waukegan, and both are open every day from 12pm to 6pm.