Kawai 0% Financing Special
From now through September 30th, enjoy waived interest for 24mo when you finance any of our new in-stock Kawai pianos.
Kawai K Series Professional Uprights
Kawai GL Series Professional Grands
Kawai GX BLAK Professional Grands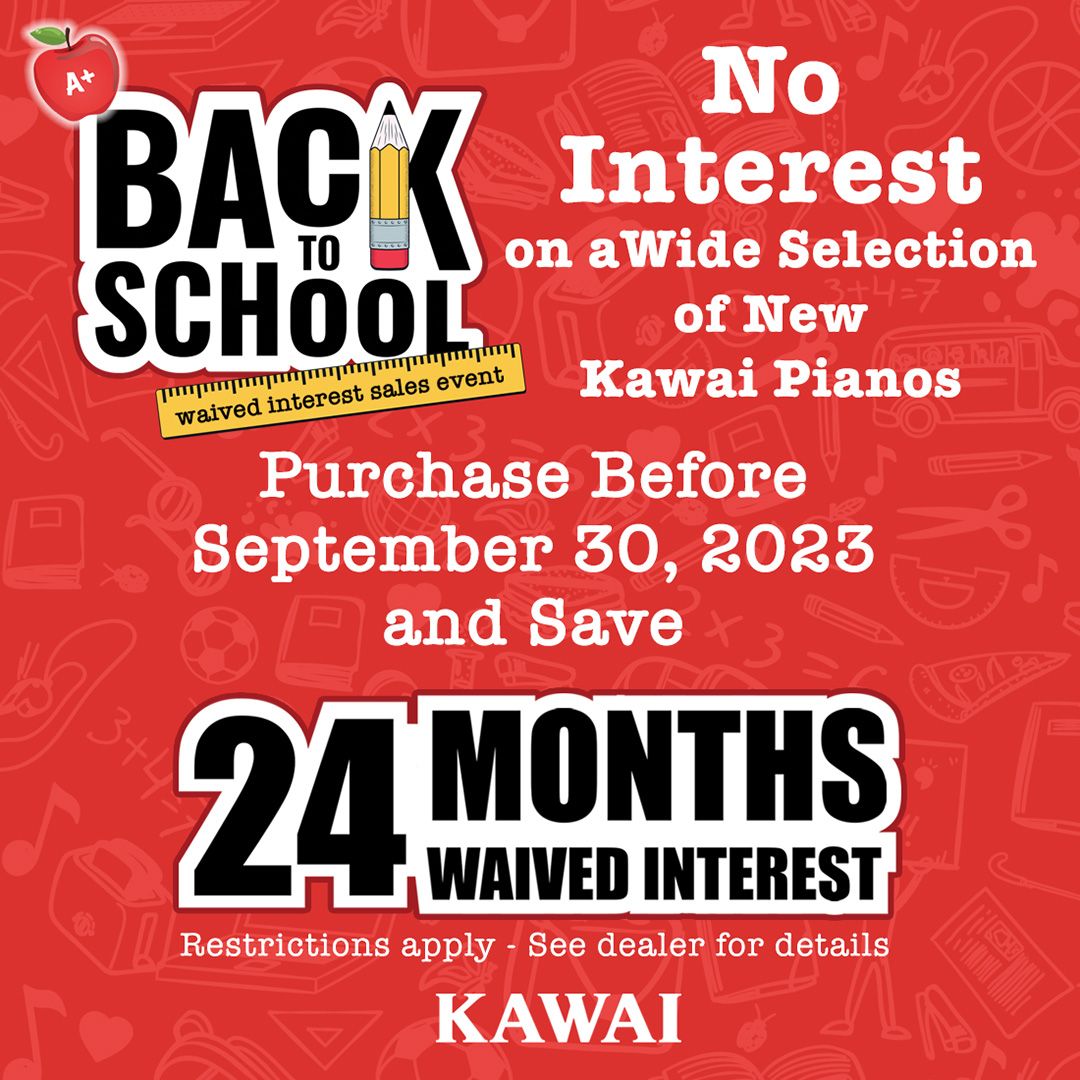 0% for 24 Months on All New Kawai Pianos
From now until September 30th, enjoy 0% financing for 24mo when you finance any new in-stock Kawai piano.
As the summer winds down and the ring of school bells approaches, there's no better time to explore the musical opportunities at our store!
Program offered by Allegro Credit. Approval required.
Unmatched Precision and Longevity
Whether you're a beginner or a pro, you'll appreciate a Kawai piano action's smooth and responsive touch.
Their innovative use of ABS-Styran and carbon fiber maintains precision better and longer than wood can.
"In part because the touch is so good, Kawai grands are often sought by classical pianists as a less expensive alternative to a Steinway or other high-end piano."
Larry Fine
PianoBuyer.com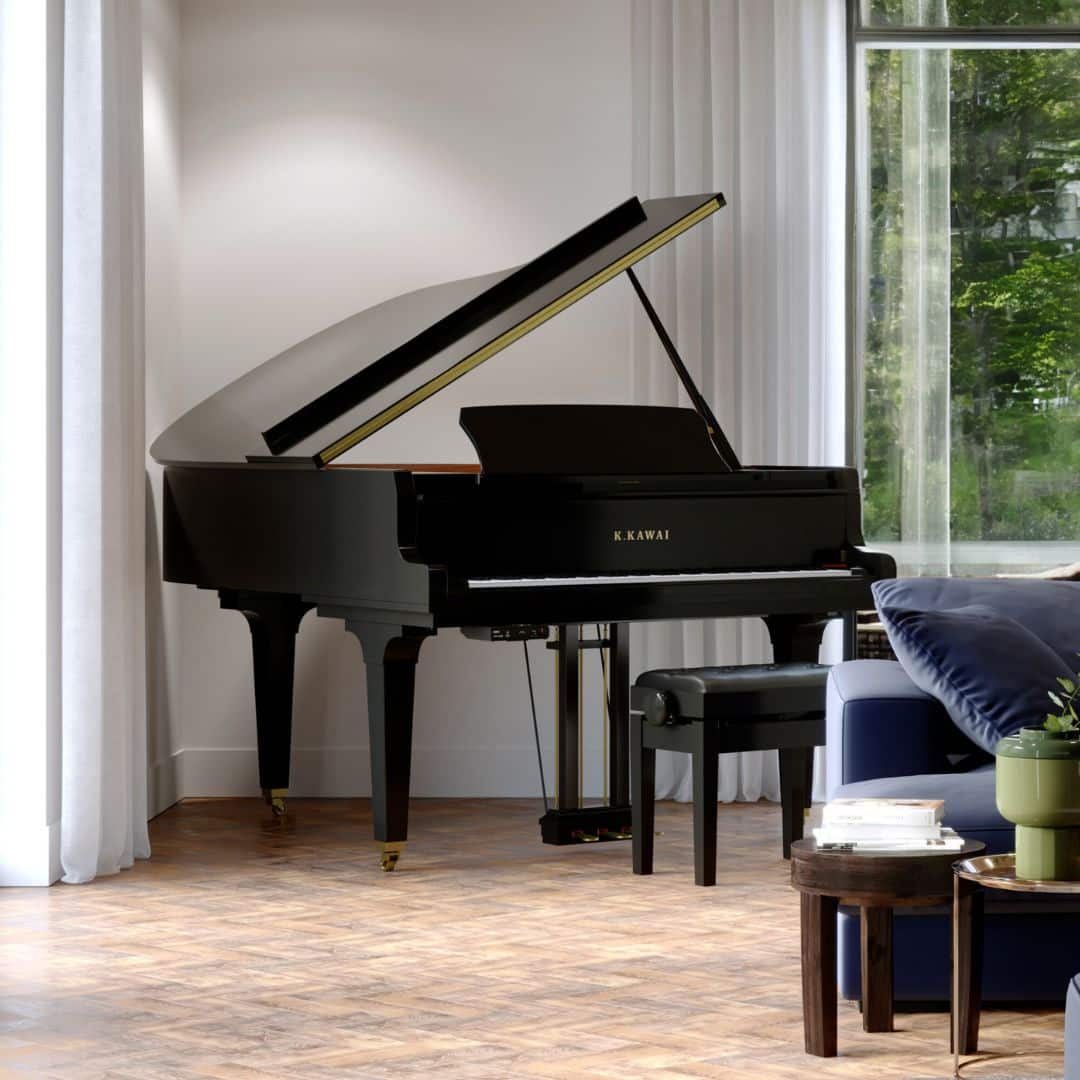 Affordable Alternative to the High-End
Unlike some competitors, Kawai invests in piano research and craftsmanship more than extravagant marketing.
As a result, Kawai offers some of the best performing pianos around while keeping their prices reasonable too.
Award-Winning Pianos, Celebrated Craftsmanship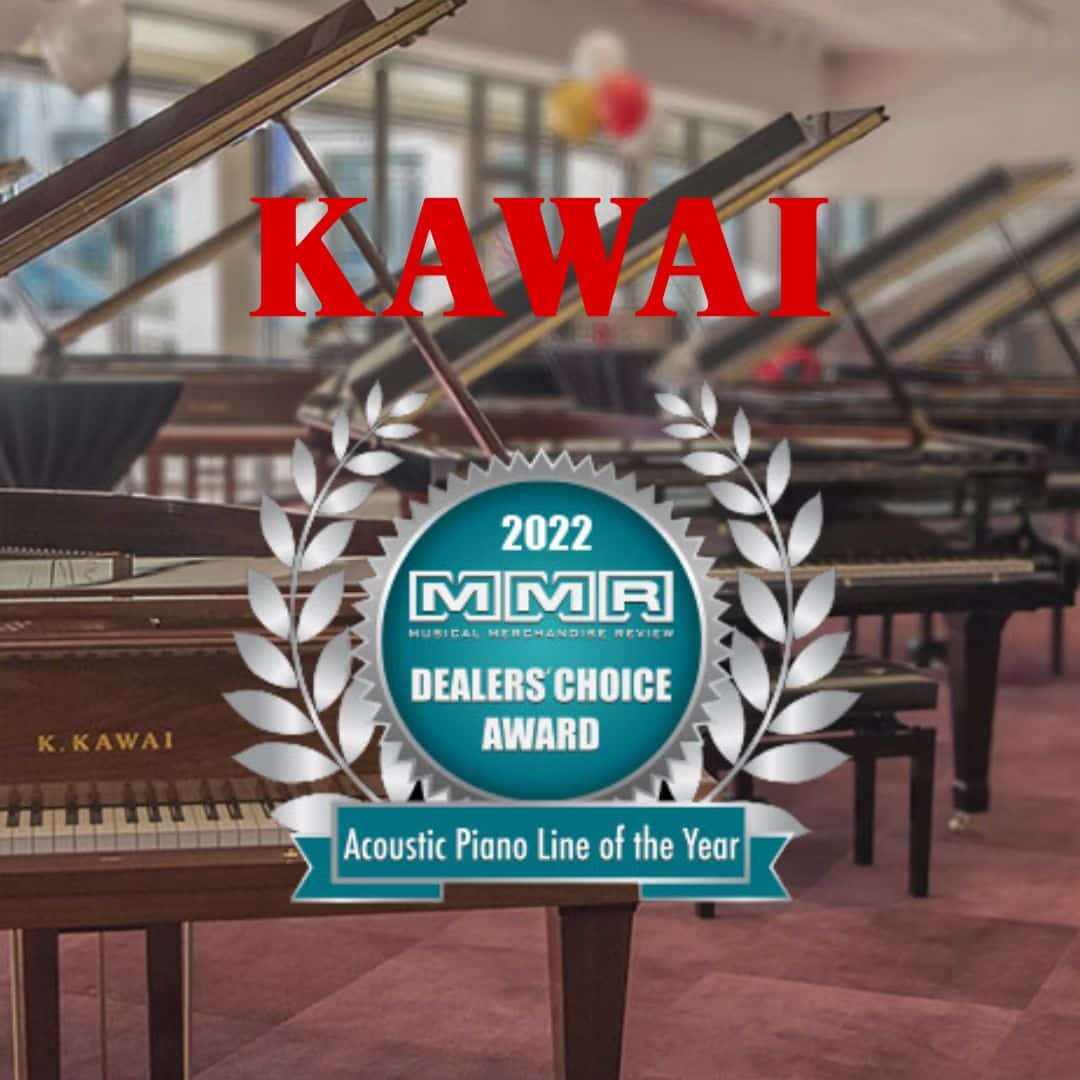 Are Kawai pianos good?
Yes, Kawai pianos are really good! In fact, they're some of our favorites!
With over 90 years of piano craftsmanship and many international awards, Kawai has earned a reputation as one of the world's best piano manufacturers.
Kawai pianos are known for their innovative materials and precise action.
They're a popular choice among both beginners and professional pianists due to their reliable performance, durability, and consistent touch.
If you have the chance to play one, we highly recommend doing so to feel and hear the difference for yourself!
Related blog post: Steinway vs. Kawai – Common Myths Debunked
Related blog post: Kawai GL10 Review: Best Baby Grand Piano?
Where are Kawai pianos made?
Kawai has two factories: their renowned Ryuyo piano factory in Japan; and their Karawan factory in Indonesia.
Most Kawai grands are made in their Japanese factory. This includes the entire GX Series and most of the GL Series. The Kawai GL-10 and GL-20 (US) are the only ones made in Indonesia. 
Similarly, most Kawai uprights are made in Japan too. Among the K Series, only the K-200 is built in Indonesia. 
The Karawan factory in Indonesia is mostly used for Kawai digital pianos. On occasion, some digitals may be made in a partnered factory in Shanghai, China as well. 
Do Kawai pianos hold their value?
Yes, due to their reliability, craftsmanship and brand reputation, Kawai pianos can hold their value well over time.
However, the idea that pianos perfectly hold or even appreciate in value is a myth started by Steinway. We covered it in detail in our Exposing 8 Piano Salesman Tricks & Myths blog post.
So please do not purchase any piano as a financial investment. They're personal investments, surely, but they all depreciate invalue over time. Pianos are also not as easy to sell used as one might think!
How long do Kawai pianos last?
With proper care and maintenance, Kawai pianos can last for an entire lifetime.
Kawai is known for making high-quality and durable pianos; even used ones fix up nicely.
Partly this is due to the use of ABS-styran and carbon fiber parts in their actions. This enables them to withstand weather changes better than wooden parts can.
As a result, Kawai piano actions generally last longer, need less regulation, and keep more stable tunings over time.
Just make sure to have a technician tune it regularly, and to keep humidity in check.
Related blog post: How Long Do Pianost Last?
Related blog post: Piano Maintenance 101: Tips for a Lifetime
How much does a Kawai piano cost?
The cost of a Kawai piano can vary depending on the type of piano (ie. digital, upright or grand), size, model, and features.
As a rough answer, new Kawai upright pianos have prices of around $5,000 at the entry-level and over $20,000 for a high-end hybrid model.
A new baby grand piano from Kawai can start at about $16,000, while larger grands with player systems are up to $100,000.
New Kawai digital pianos range from about $900 at the entry-level to $15,000 at the ultra high-end.  
Of course, these are approximate estimates that will depend on the specific model, specific dealer and any additional features.
If you're interested in buying a Kawai piano in Chicago, IL, visit Family Piano Co in Downtown Waukegan and Niles! We guarantee the lowest prices around and the best service possible. 
Why Buy a Kawai Piano at Family Piano?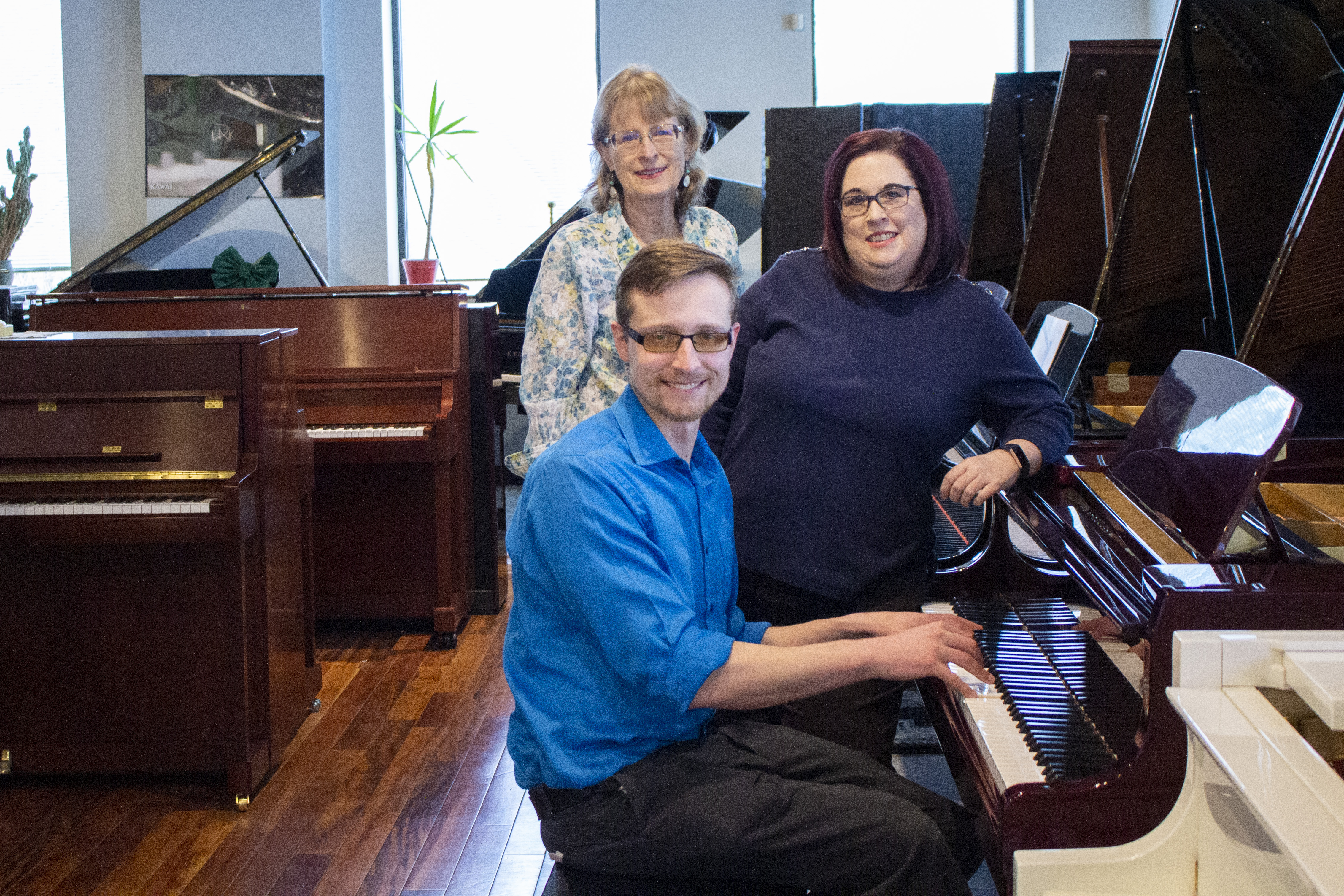 Founder and head tech Alice Alviani (upper left) with vice president Linda Charboneau (right) and president Brendan Alviani (at piano).
Pianos You Can Trust
Every piano in our showroom is in the best condition it can be and backed by a warranty. Our piano technicians tune and service each piano when it arrives, while it's here, and before it's delivered to your home.
Stress-Free Shopping
Buying a piano should be fun! So we never get pushy or use sales tactics to "close deals." Instead, we focus on education. Even if only curious about piano, we'd love to give you a tour and let you play as much as you want!
Worry-Free Ownership
Taking care of your piano can be daunting. That's why we include discounts on tunings and a warranty with every purchase. And if you ever have any piano-related questions, personalized advice is just a call away.
Lowest Prices Guaranteed
Every piano in our showroom is clearly labeled with the lowest prices you'll find in the Chicago area. And if you do find a better price, we'll match it – and still give you our unbeatable service and guarantees.
Experts You Can Rely On
Since opening in 2006, we've become the best-reviewed piano stores in the area. Our staff is full of piano lovers, and we have the largest team of techs in the Midwest. 

I am very picky and was wary of buying a digital piano, and the staff was so patient with me as I asked them a million questions and came back to the store several times.
Brendan delivered the Kawai to my house and spent a lot of time carefully setting it up.
I would absolutely go there again and recommend them to anyone, and I love that it is family-owned and run, not some faceless corporation.

Max is a classical musician as well as being certified by Kawai and has spent considerable time at Kawai in Los Angeles.
In fact, he may be one of the most knowledgeable Kawai experts in the Midwest.

A true gem! Alice and Brendan were great with helping us choose the right baby grand for our daughter.
They were knowledgeable, pleasant and spent the time showing us every detail of the Kawai we had our eyes on.
Use this form to send a message directly to our inbox. You can ask for an appointment or anything else!
You can also chat with us, call us at (847) 775-1988 or email us at info@familypiano.com.
Our stores in the Golf Mill Mall and in Downtown Waukegan are both open every day from 12pm to 6pm.