Digital Piano Repair near Chicago
Quick Repairs by a Certified Expert using Genuine Parts
Whether you're having trouble turning your keyboard on or want to fix a worn out cabinet, our certified tech has you covered!
Authorized Service Technicians for We do offer digital piano repair for every brand — getting parts and support just takes a little longer!
Where to Repair a Digital Piano?
Family Piano Co
114 South Genesee St
Waukegan IL 60085
Repair for Chicago Area
Family Piano's electronics technician only does in-home service calls within Lake County, Illinois — although he is happy to assist however he can!
Common Issues We Fix
Dead Keys
Sticky Keys
Power Issues
Worn Out Parts
Speaker Replacement
Cabinet Repair
LCD Screen Replacement
Input/Output Jack Repair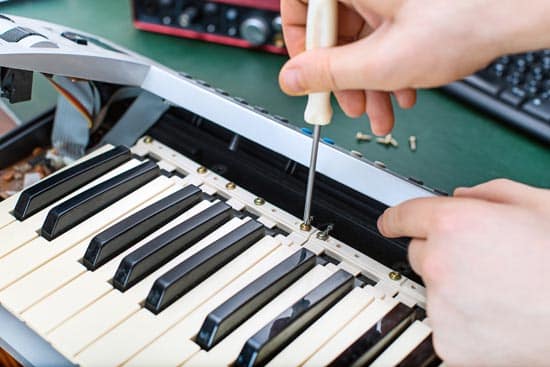 Not in the North Chicagoland Area?
Your Piano Have Strings Instead?
We have a team of piano technicians that are able to repair acoustic pianos too! No matter what seems to be broken or in need of service — we can be of service!
New & Used Pianos for Sale
Thinking About Upgrading?
Better-Than-Free Acoustics
Student-level refurbished upright pianos starting at $799.
Digital Pianos & Keyboards
New with a weighted-and-graded action for as low as $599. 
Acoustic Upright Pianos
A piano you'll never want to replace, and that fits in your space.
How Much Does it Cost to Repair a Digital Piano?
These prices are general quotes from our electronics technician in Waukegan, IL. Exact costs will depend on exact condition of service.
Evaluation & Estimate
In-Store
Flat fee for any issue — no matter size, brand, make, or model

100% is applied to the final repair bill
+ $60/hour for each additional hour

Parts charge as applicable
Initial Service Call
In-Home
 + + $60/hour for each additional hour

Distance fee of $15-$65 depending on location (see Zone map below)

Parts charge as applicable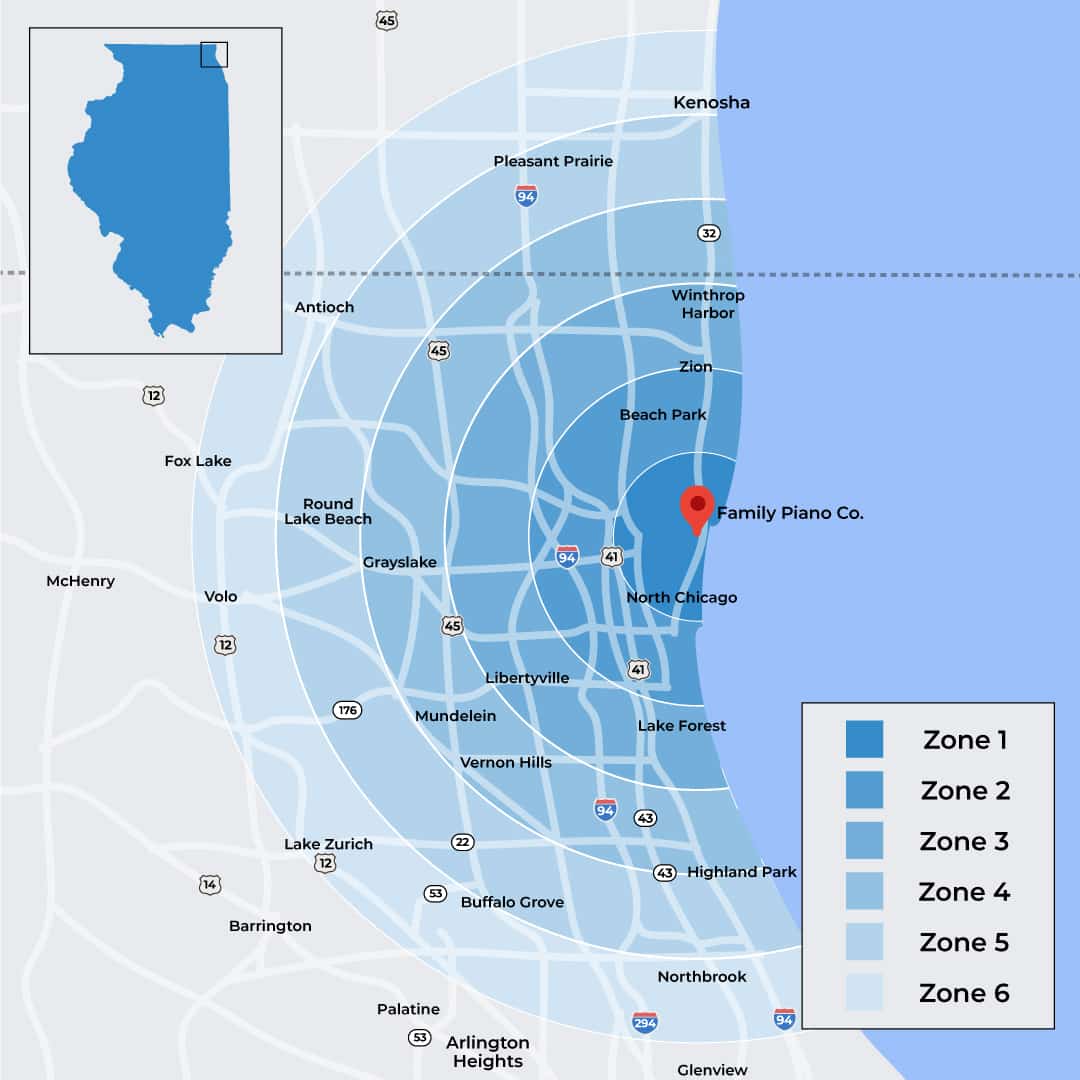 Northern Lake County, IL
Our electronics technician is only available for in-home appointments in Zones 1-6.
Generally Not Chicago
Notably, we do not generally service Chicago, but our tech will drive as far north as Racine, south as Evanston and west as McHenry.
Distance Fees by Zone
Zone 1 – $15
Zone 2 – $25
Zone 3 – $35
Zone 4 – $45
Zone 5 – $55
Zone 6 – $65
No Fees for Drop-Offs
Of course, we don't charge distance fees for in-store drop-offs made at either our Waukegan or Niles locations!
How to Fix Digital Piano Keys Yourself?
While Matt Haas does a pretty good job fixing up his Yamaha P Series digital piano, we wouldn't advise most people try this for themselves. . . .
Newer Digital Pianos Need Less Work. . . 
There have been tons of digital pianos and keyboards released over the years.
Overall, they've gotten better and better, with fewer needing much maintenance or repair.
However, when there's a power issue or any dead keys, they've also gotten a bit more complicated to fix.
But the Work is Still Complicated
Often times, in order to even diagnose and quote a digital piano repair, a tech needs at least an hour to take it apart and poke around inside.
So trying to repair a digital piano yourself often times just leads to worsening the issue.
We understand trying to save a buck and find quick solutions, but it's never a bad idea to involve a tech!
Try a Reset for Software Issues. . .
It is always worth trying a factory reset to solve problems relating to freezing or slow speeds.
You can learn how to do this in your digital piano's user manual, or you can check the manufacturer's site.
Do be aware that factory resets erase any user data so make sure to back up settings or songs if possible!
Otherwise, Find an Authorized Technician
If you can't fix your issue with a reset, the safest and simplest way to repair your piano is to bring it in to a reputable and authorized digital piano technician.
Many manufacturers will void the warranty if an authorized technician doesn't do the work! Plus it is easy to damage something further beyond a simple repair.
Trying to solve an issue yourself could be an expensive mistake to make — especially if it ends up requiring you to purchase a new piano instead!
Get Your Piano Back in Shape
Tell us a little about the issues you're having, and we'll get you the service you need.
Even for more straightforward problems — like questions with settings, for example — just submit a message and we'll reach out to help!
You can also call Paul at Family Piano for more immediate assistance at (847) 775-1988!